Education
EDI Team Collaborates to Move Design Studio Courses Online
In the wake of COVID-19, Jim Wicks, Amy O'Keefe and the Segal Design Institute team came together to move the graduate-level design innovation program online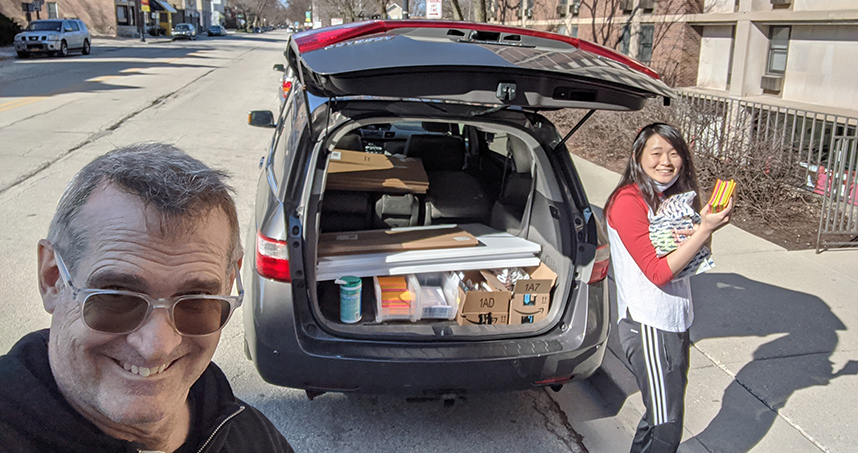 Jim Wicks and Amy O'Keefe didn't expect to spend spring break the way they did: preparing to teach studio-based design coursework online and learning new tools.
"These have been challenging circumstances," said O'Keefe, studio director of Northwestern Engineering's Engineering Design Innovation (EDI) program. "Even so, there have been aspects of the collaboration and exploration these past few weeks that have been rewarding and even enjoyable."
Wicks and O'Keefe were tasked with preparing faculty to deliver two required courses, DSGN 455: Design Strategy and DSGN 499: Thesis, and one elective, DSGN 495-3: Mindful Product Management, online for EDI's 15-month master's program with 23 students within the Segal Design Institute. Some courses are traditionally hands-on, while some are conceptual.
The EDI courses set for this spring, O'Keefe said, were the latter, making them somewhat more accommodating for the move to online teaching. Still, it took a great deal of planning and research to find tools to maintain the program's collaborative spirit and learning outcomes.
O'Keefe and Kim Hoffmann, clinical assistant professor and EDI's Director of Strategic Initiatives, contacted the rest of the Segal faculty to understand the questions and challenges they faced preparing for remote delivery.
During multiple Zoom meetings, more than 20 Segal Design Institute faculty members shared ideas about using tools to engage with distributed design teams, give students feedback, and address unexpected internet outages.
"We recognized that we had shared problems across undergraduate and graduate-level, studio-based courses," O'Keefe said.
Together, the faculty explored ways to personalize the Zoom experience. The meetings included a "Segal high-five," where people on the call gave each other virtual high-fives using the program's gallery view.
Mike Edmonds, an adjunct professor teaching Mindful Product Management, teamed with O'Keefe on a series of training sessions to introduce Segal faculty to MURAL, a collaboration tool used by distributed design teams. The goal during the sessions was to help faculty feel comfortable navigating student work and giving feedback using this new tool.
The EDI program also engaged dscout, a qualitative research platform, for two sponsored studios in Mindful Product Management and Design Strategy. "The tool provides a timely and valuable method for students to directly engage with specific sets of people as part of their research," said Wicks, EDI program director.
"Typically, in this course, the research would be done in person," Wicks said. "It's essential to ensure we maintain the human-centered process even when remote."
To make sure students were prepared for their EDI thesis projects, Wicks used another new teaching tool — his family van. He hit the road to deliver class materials to students in nine different Evanston locations. Not only did this allow students to complete their work for courses with a physical component, but to also see a familiar face safely during a challenging moment.
One group Zoom meeting with Wicks's and O'Keefe's students ended with a slide saying, "We want you to know that we love you and care about you and want to take care of you now."
"We want them to know that we're working as hard as we can to build on the strengths of our community make this a good learning experience," O'Keefe said.