Undergraduate
ASME Student Chapter Takes Flight with Hovercraft Project
The student group used 3D printing and CAD resources to design and build the hovercraft
The Northwestern University student chapter of the American Society of Mechanical Engineers (ASME) wasted no time getting off the ground.
Less than a year after its launch, the student group designed and built a functioning hovercraft as part of its inaugural engineering project. Developed in conjunction with ASME's Innovative Additive Manufacturing 3D (IAM3D) competition, the project's leaders sought to utilize as many 3D-printed parts as possible.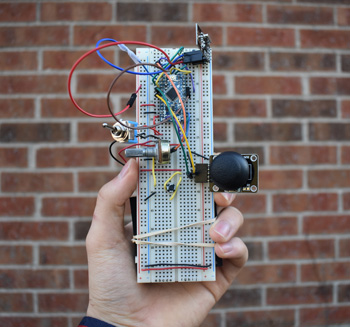 To design the hovercraft — called Aeolus — the team relied on Northwestern Engineering's extensive 3D printing and CAD resources, including the Segal Design Institute's Corner Makery and 3D Printing and Rapid Prototyping Lab. CAD and simulation techniques guided decisions for the best dimensions for the structural design to allow the hovercraft to float.
"This was definitely the most difficult stage, but the key for us was moving forward with our best theoretical calculations for dimensions and knowing we'd have room to adjust later," said Noah Baculi, Northwestern ASME's founder and president and a junior studying mechanical engineering. "That's one of the best things about a 3D-printing project."
After 3D printing the parts to specification, the team assembled the vehicle. The process included installing a suite of mechatronic components, including an Arduino control, servo, and motor system to allow the hovercraft to adjust its height in the air, accelerate, and steer. The team also integrated an RF module, allowing them to wirelessly control the craft from a distance using a custom 3D printed remote control.
"We programmed the craft to respond to a breadboard wireless remote, which we evaluated during a number of test flights," Baculi said. "Each test revealed new ways to improve the vehicle's stability other mechanical features."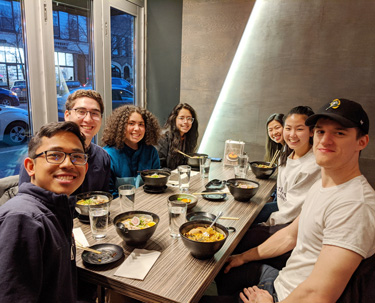 While the group is undecided if they will submit their hovercraft to IAM3D formal competition, which takes place in April at ASME's E-FEST North, Baculi said that the project has already proven valuable to all of the group's members.
"My biggest takeaway from working on Aeolus is a realization of the power of collaboration through distributed effort and delegation," Baculi said. "While our group learned many specific details about this kind of hovercraft, the most transferable skills we developed were teamwork, technical analysis, and the general design process."
Next, the group — which now counts more than a dozen mechanical engineering and manufacturing and design engineering undergraduates among its ranks — plans to launch three more projects this spring, including a 3D-printed radio-controlled (RC) car, a 3D-printed RC robotic arm, and a custom centralized CAD simulation and rendering compute server.