Announcements
New Book Spotlights Resource-saving Potential of Energy Geostructures
Alessandro Rotta Loria's new book highlights the theory and practical application behind the analysis and design of energy geostructures
As demand grows for new built environments in cities, scientists are looking to the very ground where these structures sit to provide renewable energy to power them. Called energy geostructures, these multifunctional technologies integrate geothermal energy carriers within building foundations and other earth-contact structures, providing an environmentally friendly way to heat and cool indoor spaces and sustain hot water production.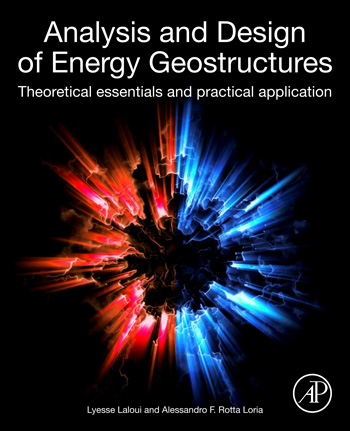 A new book coauthored by Northwestern Engineering's Alessandro Rotta Loria is the first to provide a holistic overview about the analysis and design of energy geostructures. Titled Analysis and Design of Energy Geostructures: Theoretical Essentials and Practical Applications (Academic Press, 2019), the book blends multiple disciplines and nearly two decades of research to champion how these revolutionary technologies could improve the sustainability of built environments going forward.
"Over the past 20 years, a substantial amount of competence has been developed across different fields of science about energy geostructures. However, no references existed that offered an integrated and unified treatment of such knowledge," said Rotta Loria, assistant professor of civil and environmental engineering in the McCormick School of Engineering. "This book bridges different fields of science and engineering to finally make accessible the theoretical essentials and practical application related to the analysis and design of energy geostructures."
Designed for civil and environmental engineers, geologists, energy engineers, architects, and urban project managers, Analysis and Design of Energy Geostructures provides the broad training required to understand, model, and predict the behavior and performance of energy geostructures, as well as to conduct the related analysis and design from energy, geotechnical, and structural perspectives. Lyesse Laloui, professor and director of the Laboratory of Soil Mechanics at the Swiss Federal Institute of Technology in Lausanne (EPFL) and a world-renowned leader in the field, is the coauthor.
Structured in five parts, the book examines several areas important to understanding energy geostructures, including the fundamentals of heat and mass transfers, mechanics of geomaterials and structures, and performance-based design. Theoretical questions and practical application exercises are also included to facilitate learning and discussion.
"I hope the book helps researchers address current challenges in the analysis and design of energy geostructures," Rotta Loria said. "By mastering the different elements that comprise this field, current and future generations of scientists will be better equipped to address urgent world challenges surrounding society's growing need for energy."