Honors and Awards
John Rogers Elected to the National Academy of Medicine
Rogers becomes one of only 25 people ever to be named to all three National Academies
Northwestern Engineering's John Rogers, the Louis Simpson and Kimberly Querrey Professor of Materials Science and Engineering, Biomedical Engineering and Neurological Surgery, has been honored with the election to the National Academy of Medicine (NAM).
NAM, previously known as the Institute of Medicine, is one of three academies that make up the National Academies of Sciences, Engineering, and Medicine in the US, and is one of the highest honors in the fields of health and medicine. NAM serves as a source of expertise by providing independent, evidence-based scientific and policy advice to inspire action across the private and public sectors regarding critical issues in health, medicine and science.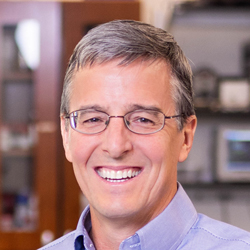 Rogers becomes one of only 25 people ever to be named to the National Academies of Sciences, Engineering, and Medicine.
Since it was founded in 1970, current members of NAM elect no more than 90 regular members and 10 international members annually based on professional achievement and a commitment to service and advancement in the fields.
"We are tremendously proud to see John recognized at the highest level, yet again," said Julio M. Ottino, dean of the McCormick School of Engineering. "It is a truly remarkable and rare accomplishment to be elected to all three branches of the National Academies, and it reflects the impact his pioneering research has made across disciplines and how people like John are blurring the boundaries of disciplines."
A pioneer in bioelectronics
A materials scientist by training, Rogers is an innovator in bio-integrated electronic devices, joining Northwestern University in 2016 to lead the Center for Bio-integrated Electronics at the Simpson Querrey Institute. Holding faculty positions both at Northwestern Engineering and the Feinberg School of Medicine, his research expands the capabilities of current biomedical technologies through creating innovative electronic devices that can be integrated with the human body and possess a wide range of diagnostic and therapeutic functions.
"At a personal level, I'm deeply honored to be selected to join this elite group but, more significantly, this recognition represents an important validation of our collaborative, interdisciplinary style of work at the interface between medicine and engineering science," Rogers said. "As someone whose core training is in the physical sciences, I'm delighted to receive this form of endorsement, from the highest levels of the medical community."
Rogers has published more than 530 papers and is an inventor of more than 80 patents and patent applications, as well as having founded several companies based on his research. His research has utilized new, innovative approaches to problems with the potential to change the fields of industrial, consumer and biocompatible electronics.
"We believe that the future of medicine will depend critically on advanced engineering and innovative technology concepts," Rogers said. "We're in a great position here at Northwestern — the right people, the right collaborative culture, and the right resources and support — to help define that future."
Three other Northwestern professors also were elected to NAM: David Cella, chair and Ralph Seal Paffenbarger Professor of Medical Social Sciences; Susan Quaggin, director of the Feinberg Cardiovascular and Renal Research Institute and chief of Nephrology and Hypertension in the Department of Medicine; and Catherine Woolley, the William Deering Chair in Biological Sciences in the Weinberg College of Arts and Sciences and professor of Neurology. They join more than 2,200 active NAM members.