Announcements
Ford Design Center Unveils Renovations
New Hive, design studios foster collaboration and innovation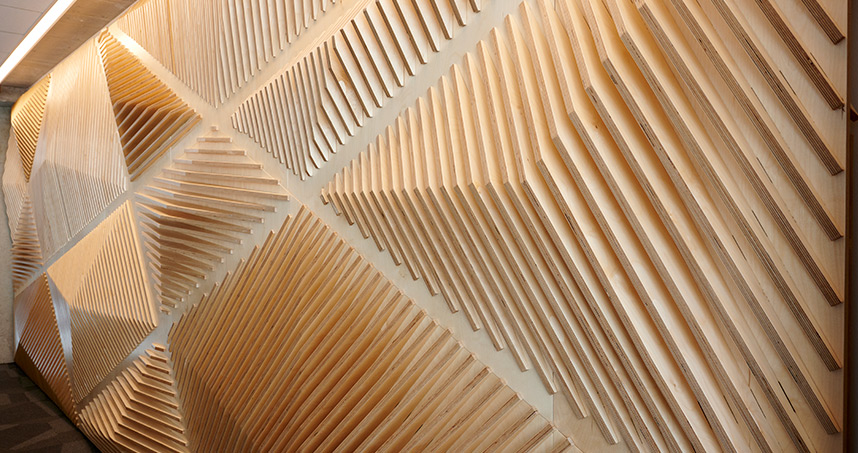 The Ford Motor Company Engineering Design Center now offers the Northwestern Engineering community new, expanded collaborative spaces through recently completely completed renovations intended to better foster design innovation and entrepreneurship.
The Ford building, on the north end of the Evanston campus, now features: two large seminar classrooms, five design studios, nine shared conference rooms, seven breakout rooms, six "hotel" offices for temporary use, and one maker work studio. The 3D printing and rapid prototyping labs were also expanded. The student groups, NUSTARS and NURobotics, now have dedicated spaces, alongside Engineers for a Sustainable World, and the three vehicle teams: Solar, Baja, and Formula. The building's entry way and atrium were renovated to showcase student work and better serve as a meeting space.
Upgrades throughout the building include improved signage as well as new paint and carpeting. New audio-visual equipment was installed in the renovated conference rooms.
"Northwestern Engineering is already a hub for innovation, and with our new renovations to the Ford Design Center, there is even more space and support to inspire collaboration," said Julio M. Ottino, dean of the McCormick School of Engineering. "We expect a bustling atmosphere with hives of activity throughout the building and rooms."
The building's new features include:
Hive: a 1,965-square-foot classroom with a new artistic feature wall. The Hive can act as a seminar room for up to 100 people, and the furniture is moveable.
Hive Annex: a 1,188-square-foot classroom attached to the Hive which features moveable desks.
First floor design studio: a 1,246-square-foot studio featuring upgraded furniture for 30 students.
Second floor design studio: a 600-square-foot studio with new furniture and a new large window in the walkway connecting the Technological Institute and the Ford Design Center.
Third floor design studio: a 1,025-square-foot studio featuring new furniture, seating 30 students.
Named in honor of a $10 million grant from the Ford Motor Company, the Ford Design Center opened in 2005 as the first Northwestern building to achieve Silver-level certification from the Leadership in Energy and Environmental Design (LEED) Green Building Rating System.