Undergraduate
Solar Car Team Unveils Reimagined Vehicle at Formula Sun Grand Prix
Team took part in three days of racing at the Circuit of the Americas track in Austin, Texas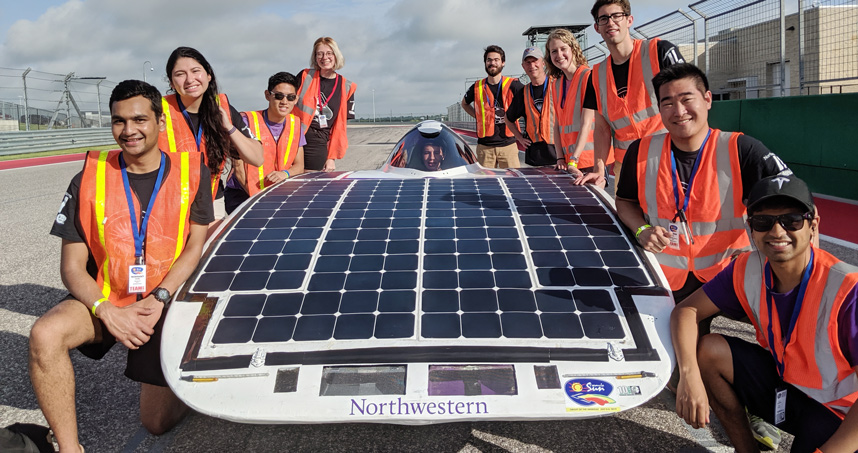 Featuring a reimagined car designed for reliability and structural stability, the Northwestern University Solar Car Team (NUSolar) hit the track for the first time in 2019 during the annual Formula Sun Grand Prix from July 1-6.
Northwestern's team competed against 20 other university teams at the Circuit of the Americas track in Austin, Texas. Following a close technical inspection by Grand Prix officials to comply with electrical and mechanical systems, battery protection, and dynamic performance requirements, teams spent three days on the 3.5-mile track to see how many laps their car could complete using only power from the sun. The event served as a qualifier to the cross-country American Solar Challenge race, scheduled to take place in 2020.
The race was the culmination of three years of hard work developing "Seven," the newest addition to the NUSolar fleet. This model features several significant changes, including a new volumetric steel chassis to act as the primary structural element of the vehicle, as well as an aerodynamic carbon fiber aeroshell that houses the solar array. A second rear wheel was also added for improved stability on turns.
"While our previous car was lighter, it was much harder to service," said Ieva Stakvileviciute, NUSolar's project manager and a junior studying mechanical engineering and manufacturing and design engineering. "We decided as a team to go with a steel design that we expect to perform more reliably in competitions."
Seven is equipped with two independent electric motors and an electric battery pack similar to those found in Tesla models. Yet instead of plugging in the car to a charging station to power its driving, the vehicle absorbs energy from a four-square-meter solar array on top of its outer composite shell. The solar cells provide continuous energy during long days of racing.
"Solar races are endurance races," Stakvileviciute said. "To be successful, you need to optimize your power intake from your solar array and your power outtake to your motor sticks so you can keep the vehicle driving for eight hours a day."
This year's solar car team features 20 core members from a variety of majors within the McCormick School of Engineering, Weinberg College of Arts and Sciences, and the Bienen School of Music. Stakvileviciute, who has been a member of the group since she arrived at Northwestern in 2016, appreciates the dedication of her peers.
"NUSolar been a tremendous opportunity for me to take all of the engineering, manufacturing, and design knowledge I've learned in the classroom and apply it directly to a project," she said. "I found a community of people that come in almost every day to The Garage and work and tinker and learn together."