Events
How Computer Science is Changing Education and Becoming More Inclusive
Northwestern symposium brought together researchers in computer and learning sciences to discuss the future of the fields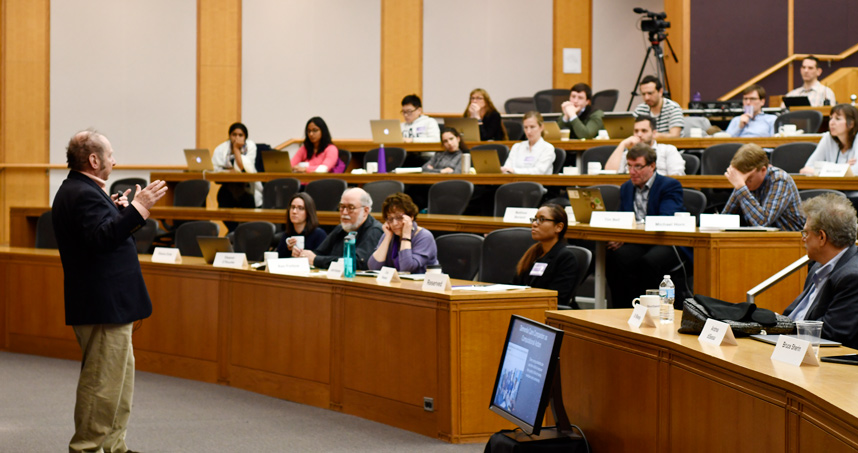 Over the past decade, an explosion of mobile computing has offered new ways for more people to have an impact in their communities. As a result, more people are studying computer science, whether in college or at coding boot camps around the world.
But how can we best educate the next generation of students to not only learn the basics of computer programming but also feel empowered by this technology? And how can that education reach everyone – not just those who are drawn to the traditional notions of computer science?
Those are the questions researchers grappled with at the Inaugural Symposium on Computer Science and Learning Sciences, held April 28-30 at Northwestern. The symposium, sponsored by Northwestern's McCormick School of Engineering and School of Education and Social Policy, brought in researchers from around the country to discuss challenges and opportunities in STEM and computer science education.
How Artificial Intelligence Promotes Learning
At the heart of much of the discussion was agency – how students can move from being passive learners to becoming active participants in their educational experience, in their communities, and in their careers through computer science.
For Janet Kolodner, visiting professor at Boston College's Lynch School of Education, that means using artificial intelligence (AI) to broaden our idea of what education can be. AI can be used to solve the number one problem educators face: keeping people engaged and interested.
"What if we add new pedagogies that allow more agency and technologies that make phenomena more accessible and vivid?" she said.
Augmented and virtual reality systems have the ability to do this, but even simpler technologies have the ability to capture this interest by giving learners agency. RoomQuake, an earthquake simulation system, turns regular classrooms into seismic opportunities. When an "earthquake" happens, students become seismologists and work to discover the epicenter of the quake.
"Too much of AI and education assumes that only cognitive aspects of learning need to be addressed," she said. "People have to find meaning. People have to feel like they can accomplish something."
Turning a Computer into a 24/7 Tutor
Ken Forbus, professor of computer science at Northwestern Engineering, wants to empower students by creating software that can help them any time of the day. His software, Sketch Worksheets, uses AI to offer feedback on and grade sketches, an important part of many learning processes but are time-consuming to grade.
He and his group are also developing AI systems that can learn from human language. "Our vision here is that by 2040, AI tutors, coaches, and mentors can support people who want to learn any area of science at any level, any time," he said. "I think this has the power to revolutionize education."
In the meantime, educators like Chris Riesbeck, associate professor of computer science at Northwestern, are working to better understand how to teach computer programming to students, who often get frustrating errors because of minor typos in their code. Riesbeck often gives his teaching assistants advice on how to help students:
Ignore what students say. Instead, ask them to show you their code.
Don't solve their problems for them. Help them understand where to look to find the solution.
Turns out, this advice could be implemented into an AI-assisted mentoring software. Riesbeck's AutoMentor software combines a database of common problems with a database of resources to help those problems.
Empowering the Next Generation through Computational Action
For computer science pioneer Hal Abelson, professor of computer science and engineering at MIT, the power of the field lies in getting students to imagine themselves as intellectual agents who can change the world through "computational action." Abelson created App Inventor, an easy-to-use software platform that allows even young people to develop applications to help themselves and their communities. Examples of success stories include a group of girls in India who developed an app to schedule time at the community water distribution site and an app developed by high school students in Moldova to track the quality of water in local wells.
"It demonstrates that even children, even young teenagers in the poorest communities, can create apps to improve the lives for people around them," he said.
Software like this helps create problem solvers, not just programmers, said Mike Tissenbaum, assistant professor of educational psychology at the University of Illinois College of Education. Traditional computer science courses don't offer that sort of outcome. "We're driving students away because we are using old paradigms of learning that don't match opportunities and the abilities of students to connect with education," he said.
Making Computer Science More Inclusive
At the same time, it is important to create computer science experiences for all learners, said Marcelo Worsley, since 22 percent of the US population identifies as having a disability. Worlsey, assistant professor of learning sciences and computer science at Northwestern, and his students develop projects like Tangicraft, a multimodal interface designed to empower visually impaired children to play Minecraft. A physical companion to the game provides an alternative to strictly computational thinking and allows creativity to be extended to other populations.
"I'm looking to see, do they feel empowered? Do they see opportunities to impact their world, to recognize that they have agency?" he said.
The event was part of the new Northwestern Center for Computer Science and Learning Sciences, which recognizes and expands Northwestern's pioneering leadership at the intersection of computer science, education, cognitive science, and engineering. Through its academic, research, and event-based programming, the Center seeks to develop the next generation of leaders at the intersection of computer science and learning sciences and connect researchers and practitioners to create the broadest possible impact.