Events
Historian Ken Alder Discusses "Engineering the Revolution" with PhD Students
Northwestern Engineering welcomed Alder as the sixth speaker for Whole-Brain Leadership for PhD Students Seminar Series
As part of the Whole-Brain Leadership for PhD Students Seminar Series at Northwestern Engineering, Ken Alder, professor of history and Milton H. Wilson Professor in the Humanities in Weinberg College of Arts and Sciences, challenged students to consider how historical engineering practices influence current engineering developments.
His talk, "Engineering the Revolution: The Origins of Modern Engineering" on April 17 in the Ford Motor Company Engineering Design Center, revolved around revisiting the 18th century when engineers were among the world's foremost revolutionaries, inventing new ways of deploying scientific knowledge to draw, design, manufacture, and embed artifacts within systems.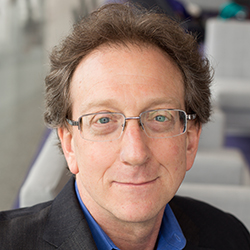 "Engineering, when you take it out of the lab and try to do it in the world, you're transforming how people interact and live," he said.
Basing the talk off his first book, Engineering the Revolution: Arms and Enlightenment in France, 1763-1815, Alder used the development of the gun as an example to show how the need for engineering during wartime caused the evolution of the weapon, which in turn, influenced the course of history.
"Something radical happens in this period that utterly transforms the way engineering design takes place, the way engineers work together as a group, and how they think — they way they go about the actual process of doing, creating, designing new objects, and then the way they go about having them made to their specs," Alder said.
Alder discussed how armories dedicated to manufacturing and testing ballistics served as the first engineering schools, as seen at institutions like the United States Military Academy, West Point.
"It is essentially an engineering school," Alder said. "It is, until the creation of MIT, the only place for the first 40 years of the United States where you could get that kind of advanced technical training."
Alder concluded that the development of modern engineering in the 18th century led to new institutions, new theories of knowledge, and new forms of practice, which apply to engineering today.
Alder's talk is part of the PhD Seminar Series which invites scholars from outside the McCormick School of Engineering to introduce students to various disciplines, including history, philosophy, art, theatre, economics, and law.
"The world changes much faster than humans think," Dean Julio M. Ottino said. "What never goes out of style is thinking. That's why we have these talks."
The next speaker will be Shari Diamond, Howard J. Trienens Professor of Law and professor of psychology, on May 1.