Honors and Awards
Senior Rajan Burt Named Co-op Student of the Year
Burt worked for Hollister Incorporated, a medical device developer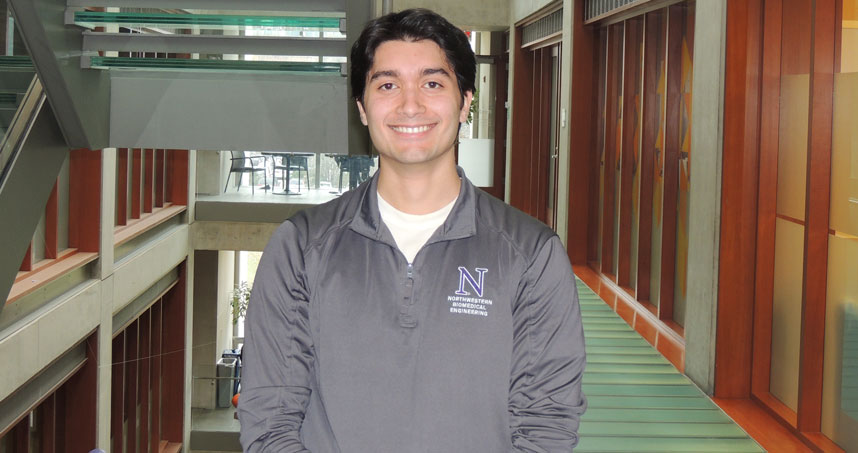 BS/MS student Rajan Burt completed his co-op with Hollister Incorporated, a medical device developer based in Libertyville, Illinois. For nine months, Burt, a senior studying biomedical engineering, alternated between periods of academic study and full-time paid work experience at Hollister, where he collaborated with senior engineers and medical professionals to develop innovative medical devices and platforms to better treat disease.
Selected as Northwestern Engineering's 2018 Walter P. Murphy Cooperative Engineering Education Student of the Year, Burt visited with Engineering Career Development to discuss working with experienced engineering professionals, the importance of strong communication, and the benefits of mentors.
Why did you decide to do a co-op? How did you get started?
I decided to do a co-op because I wanted to gain experience on a long-term project. One drawback to internships is that you don't necessarily have time to see a project through to completion. I was really motivated to produce something of my own work, not just stop as soon as the quarter ended. That drove me to pursue a co-op, as well as the chance to dive into industry and learn if it could offer a path for me in the future.
I started looking at co-op opportunities while job hunting during my sophomore and junior years. I wasn't able to find a co-op as a sophomore, but I kept my nose to the grindstone and eventually got an opportunity with Hollister.
What was your favorite project that you worked on?
My favorite project was one that I worked on under Dr. Tadas Sileika, who was my main mentor and supervisor. I can't discuss all the details, but it was related to infectious disease. We basically established, from the ground up, a laboratory and platform to study infectious disease and how it relates to some of our products. That development process and the number of deliverables that were produced was something that had not been there before at Hollister.
I cannot give enough credit to Dr. Sileika, because he was very innovative throughout the process and took me under his wing. He brought in a contractor who worked with us as well. I called our team 'the wolf pack.' It was an amazing experience.
Like all students in the co-op program, you alternate between classes at Northwestern and your co-op at Hollister. What are the biggest challenges and benefits to that structure?
As a young college student, you might be staying at your university for a few more quarters after the co-op. That can be a bit socially challenging, but it's something you get used to. I think of a co-op like an industry fellowship for engineering, where you are using the time to gain some good experience.
The benefits far outweigh the challenges. There is no other way to get an in-depth education on what it means to be a corporate scientist or engineer in industry at such a young age. That's something that will forever stick with me. If I pursue graduate work, I will have a really good understanding of what it means to go into academia or to go into industry.
Another benefit is that you can gain mentors and network. We often talk about networking in terms of our social media or LinkedIn pages, but in some ways, that's all a bit superficial. I felt like I really understood what networking meant after my time at Hollister. I gained genuine mentors there that I care about and feel they care about me and what direction my career takes. That opened my eyes to how careers are developed.
How did it feel to work alongside senior and seasoned engineers who have worked in industry for several years?
It was fantastic. It was another huge advantage of my co-op. Without a doubt, the most important skill is the ability to communicate, regardless of your profession. No matter how technically proficient you are, to turn an idea into a product and get it to market, you can't do it yourself. If you can't communicate those ideas, it's almost not even worth having them. Working alongside seasoned engineers and scientists opened up my eyes to that. We had meetings with executive marketers or product managers and other non-technical members that were absolutely key to the success of projects.
What was the most rewarding part of your co-op at Hollister?
We were able to patent and work on publications, and there is potential for more patents in the future. Yet the most rewarding experience isn't from these deliverables, but rather that I worked on projects related to medicine, helping people, and hopefully reducing disease.
One project during my last term, for example, dealt with the risk of urinary tract infection (UTI) in catheter users. UTI is a leading cause of death for many people suffering from spinal cord injuries. They rely on a catheter and as they get older and their dexterity lessens, their risk of infection increases. The opportunity to work on a project that tackled a serious problem, that mattered more than just someone's bottom line, was very rewarding to me.
What makes the co-op experience unique?
I think it's the insight into industry and your ability to have real mentors. Of course, I have mentors at Northwestern, particularly Professor Evan Scott, whose lab I work in. Beyond working in someone's lab, I'm not sure how someone can gain that kind of mentor. Mentorship is something that's important to me. It offers a glimpse into the future in a way.
What was the most surprising thing you learned about yourself throughout your time as a co-op?
That's a good question. I learned that when it comes down to it, I'm not intimidated by someone's position or title. I had some really fantastic experiences at Hollister. I was able to talk to people in high-level positions. There was one time where I gave a presentation to the company's vice president of technology. I was nervous going in, but felt very good about it after I finished. Obviously, titles are important, and of course you need to afford people respect, but at the end of the day, it's two people trying to solve a problem.
What's next for you after graduation?
I have options that I am considering. I am currently talking with Hollister about coming back. I may also reach out to other companies in Chicago to learn more about other opportunities. Eventually, I would like to pursue an MD-PhD. My experience in industry has shown me that I really love using science and technology to help society. If I can find a position in industry that provides me that opportunity, I will definitely go for it, however, I could also see myself pursuing an MD-PhD.