Honors and Awards
Alumna Gwynne Shotwell Awarded Prestigious Ralph Coats Roe Medal
The American Society of Mechanical Engineers honored Shotwell on February 28 during a presentation on the Evanston campus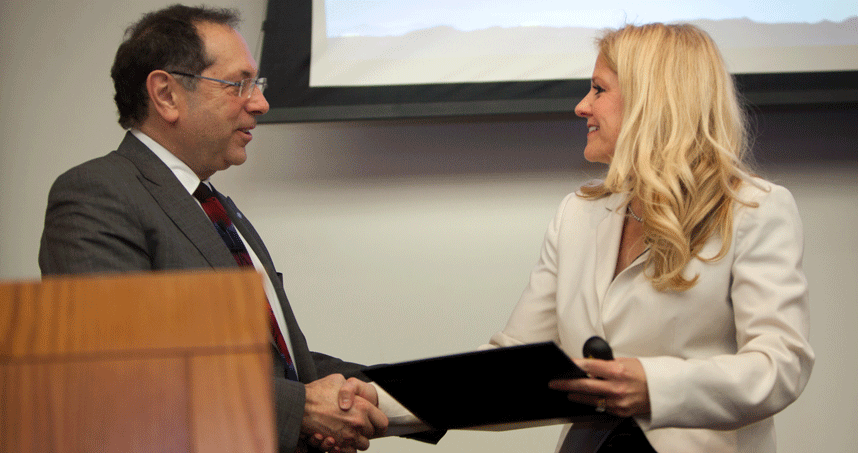 Northwestern Engineering alumna Gwynne Shotwell ('86, MS '88) received the prestigious Ralph Coats Roe Medal from the American Society of Mechanical Engineers (ASME) in an on-campus ceremony on February 28.
The Roe Medal, established in 1972, recognizes outstanding contributions toward a better public understanding and appreciation of engineers' worth to contemporary society. Ralph Coats Roe was a pioneer and innovator in the design and construction of highly efficient power plants and advanced desalination processes.
Shotwell, president and chief operating officer of SpaceX, which manufactures and launches advanced rockets and spacecraft, received the honor for her outstanding leadership and innovation for space commercialization and the promotion of STEM education.
"We are always very pleased when one of our alums is recognized in some major way, and this medal from ASME is a big deal," said Julio M. Ottino, dean of the McCormick School of Engineering.
At the ceremony, Shotwell presented the Roe Lecture, "Launching Our Future," to around 200 members of the Northwestern University community.
In 2012, SpaceX's Dragon became the first commercial spacecraft to deliver cargo to and from the International Space Station. In 2017, the company successfully achieved the historic first re-flight of an orbital class rocket, and in 2018, SpaceX launched Falcon Heavy, the world's most powerful operational rocket.
"The work that we're doing, and others as well, completely changes the way we think about the world, our solar system, and life on earth," Shotwell said.
Shotwell told the audience about SpaceX's ambitious goals to build reliable and relatively inexpensive space transportation systems that can facilitate people living on other planets. A major step toward this was the March 2 launch of the Dragon 2, which is designed to carry people.
"Engineers today are actually quite different from engineers in years past, motivated by doing things quickly but doing really exciting things and really changing humanity with the systems they get to design and the projects they get to work on," she said.
While at Northwestern, Shotwell earned an undergraduate degree in mechanical engineering and a master's degree in applied mathematics. She was also a student member of ASME.
"It's an honor to receive the award, and I love coming back to campus," she said. Shotwell chose to donate the gold medal from the award to the University and the associated $12,000 honorarium to the Minerva Institute for Research and Scholarship.
Shotwell, who topped Business Insider's list of most powerful female engineers in 2018, joined SpaceX when it was founded in 2002 as vice president of business development. She previously spent 10 years at The Aerospace Corporation, where she was the chief engineer of a Medium Launch Vehicle (MLV)-class satellite program, and she served as a manager of the Space Systems Division at Microcosm. She serves as a member of the McCormick Advisory Council and the Northwestern Board of Trustees.