Events
Local Students Explore Campus through Annual Career Day for Girls
More than 160 Chicago-area middle school and high school girls visited campus for the workshop on February 23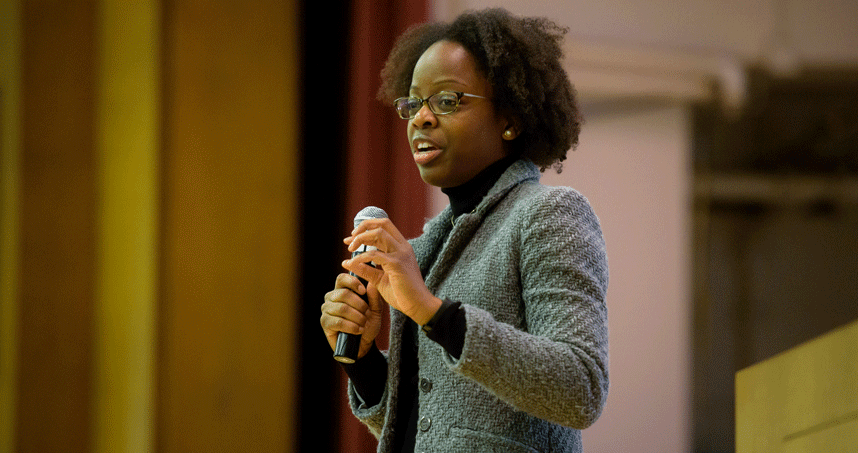 More than 160 Chicago-area middle school and high school girls performed hands-on experiments and toured Evanston campus laboratories on Saturday, February 23, during Northwestern University's 48th annual Career Day for Girls.
The workshop, which is held the last Saturday in February each year to end National Engineer's Week, supports female students in sixth through 12th grade who are interested in science and mathematics by sharing information about educational and career opportunities in engineering and applied science. "Dream it. Do it." was the theme for this year's workshop. The event is sponsored by Northwestern Engineering's chapter of the Society of Women Engineers.
This year's event included an engineering design competition, laboratory tours, hands-on experiments, and a coding workshop. Laboratory tours included activities ranging from building floating concrete figurines to observing the creation of liquid nitrogen ice cream. Engineering-specific tours included opportunities to learn about areas such as robotics, prosthetics, and bioelectronic devices, while other tours extended beyond engineering to showcase research in chemistry, physics, and communications.
Students could also attend panels about how to succeed as engineering students in college, and high school students could participate in an engineering project building a musical circuit. This year's keynote speaker was alumna Cynthia Pierre, inspection, materials, corrosion & engineering superintendent at the BP Cherry Point Refinery, who earned her PhD in materials science & engineering from Northwestern.
Career Day for Girls began in 1970 when only 4 percent of Northwestern Engineering students were women. Now, one third of engineering undergraduate students are female.