Announcements
Samir Khuller Named Barris Chair of Computer Science
Khuller will serve as chairman of Northwestern Engineering's Department of Computer Science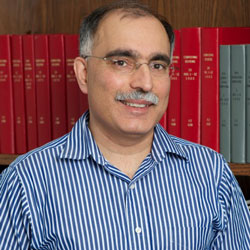 Samir Khuller, professor of computer science and a distinguished scholar and teacher at the University of Maryland, will serve as the inaugural Peter and Adrienne Barris Chair of Computer Science. In his role, Khuller will lead Northwestern Engineering's Department of Computer Science through its ongoing expansion.
"Given computer science's growth in importance both in society at large and here at Northwestern, we are thrilled to have a researcher and educator of Samir's caliber to usher us into this new, exciting era," said Northwestern Engineering Dean Julio M. Ottino. "Years of solid leadership in the Department of Electrical Engineering and Computer Science helped lay the foundation for this move. We are grateful to department chair Alan Sahakian and division head Larry Birnbaum for their tremendous leadership in getting us to this point."
The move comes as the Department of Electrical Engineering and Computer Science separates into two departments, the Department of Computer Science and the Department of Electrical and Computer Engineering.
"I am honored to have this opportunity to guide Computer Science at Northwestern at this critical juncture for both the field and the University," Khuller said. "Northwestern's vision for how computer science can connect throughout the University to elevate and transform research and education is inspiring, and I look forward to working with Dean Ottino and the faculty to make it a reality."
Khuller will join Northwestern on March 1, 2019, in the newly endowed chair position supported by a gift from Peter Barris ('74), Chairman and General Partner of NEA, and his wife, Adrienne.
"We are thrilled that Samir Khuller will join Northwestern to lead computer science, a field we see as critical to the future of the University and to society," said Barris, a member of the University's Board of Trustees and the McCormick Advisory Council. "I am delighted to see the tremendous progress that has already been made in the department and look forward to continued success."
Khuller received his MS and PhD degrees in computer science from Cornell University. An expert in graph algorithms, discrete optimization, and scheduling, he has published nearly 200 journal and conference papers, as well as several book chapters. He previously served as editor for the journals Networks, Algorithmica, and the International Journal of Foundations of Computer Science. He currently serves as chair of the Association for Computing Machinery Special Interest Group on Algorithms and Computation Theory.
From 2012-17, Khuller served as the Elizabeth Stevinson Iribe Chair of Computer Science in the University of Maryland's Department of Computer Science. During his tenure, Khuller helped obtain the largest gift in university history to build the Brendan Iribe Center for Computer Science and Innovation. He also secured three new endowed chairs and professorships; hired 22 new tenured, tenure-track, and teaching faculty members; and launched the Corporate Partners in Computing program in conjunction with the University of Maryland Institute for Advanced Computer Studies.
As chair, Khuller also supported many new student initiatives, including establishing a joint doctoral program in computer science with the Max Planck Society, creating specializations in cybersecurity and data science for undergraduate students, and developing the data science certificate program.
Khuller's honors include the National Science Foundation's Career Development Award and the CTE-Lilly Teaching Fellowship. He has also received the University of Maryland's Distinguished Scholar Teacher Award as well as its Dean's Award for Teaching Excellence. In 2016, he earned the inaugural European Symposium on Algorithms Test-of-Time Award for his work with collaborator Sudipto Guha on approximation algorithms for connected dominating sets.
In 2016, Northwestern announced plans to hire an additional 20 faculty members and substantially expand its commitment to this field in the years ahead. Half of the new faculty appointments are in core computer science areas and half structured as collaborative "CS+X" appointments with other disciplines. The Department also moved into new, expanded space in the Seeley G. Mudd Building, providing a unified home for faculty and students.