Events
McCormick Undergraduate Class of 2018 Celebrates 160th Commencement
Northwestern University's McCormick School of Engineering celebrated the graduation of its undergraduate Class of 2018 on June 22 and 23 as part of the University's 160th Commencement.
On Friday, graduates donning regalia and plastic ponchos from all disciplines gathered at a rainy Ryan Field for the main Commencement ceremony. World-renowned soprano Renée Fleming delivered the address, telling students to find their voices to help make the world a better place. Read more about the University Commencement.
On Saturday, more than 400 McCormick students returned to Ryan Field for the School's Undergraduate Convocation. Dean Julio M. Ottino reminded the graduates to remember they have gained advantages during their Northwestern career.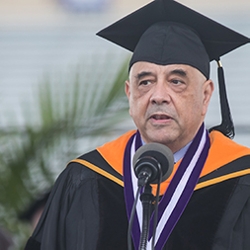 "No matter where you end up, you're going to bring with you the thinking skills of a whole-brain engineer," Ottino said. "That is your secret weapon. We have armed you with an attitude, a way to look at things, confidence that you can tackle anything."
Daryl Morey ('96), general manager of the Houston Rockets, delivered the keynote speech. He emphasized that in his work to select NBA players during the draft – players about the age of the undergraduates – he has the tricky job of trying to determine who will succeed,
"One thing I've realized, and I talk to many people your age, is the reason we can't figure out who is going to succeed is they don't know who they are," he said.
Morey advised that the graduates self-reflect to see their core personality.
"Who you are is what you do every day. It's your habits. Your habits create your track record and that's the number one thing," he said. "Put first things first."
He underscored the importance of recognizing an opportunity, then being decisive.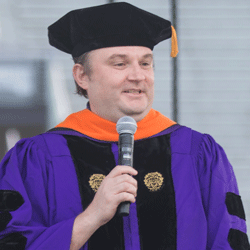 "My key phrase is 'opportunity is not a lengthy visitor,'" said Morey, whose team recorded a record 65 wins this past season. "You have to know at those key moments in your life when to jump on that opportunity. You can't put yourself half into it. You have to put yourself full into it."
Morey told how while the at Northwestern, he persistently contacted Bill James, father of baseball statistics, asking for a job. "I harassed them until they hired me. That was such a key moment," he said.
Then, he told the students to have grit. "Keep going. No matter what. Keep going. It sounds simple," he said. "When I see players fail, it's because they don't have that. When things seem tough, honestly, get up the next day, put first things first and keep going."
Several graduates received school-wide recognition awards. Lucia Giulia Burnel received the Ovid W. Eshbach Award; Tushar Anurag Chandra received the McCormick Alumni Award; Blair Alexander Johnson received the Harold B. Gotaas Undergraduate Research Award, and John Earl Franklin III was named the Walter P. Murphy Cooperative Engineering Education Student of the Year.
Ottino closed the commencement ceremony by reminding the new alumni to remember their roots.
"Being at Northwestern has made you part of a family, it has been an experience that has marked you for life," he said. "Go make us proud.