Undergraduate
When Music and Engineering Meet
Shane Choi combines his passions to create household lamps from scrapped instruments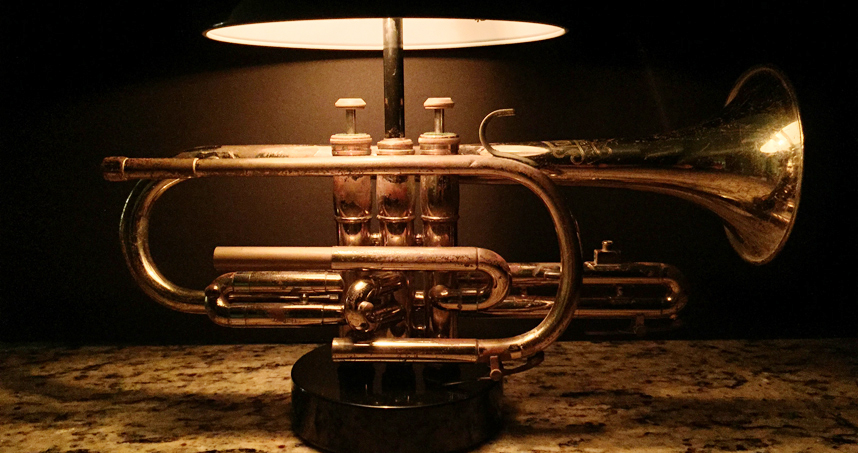 Shane Choi has a passion for music and a mind for engineering, something he pairs together as a dual-degree mechanical engineering and trumpet performance major at Northwestern.
But the fourth-year student unites the two in a more tangible way by converting discarded musical instruments into artistic and functional household lamps.
"This is something that has allowed me to reflect on how my training as an engineer and my love for music can coexist," Choi said.
Choi's effort began in late 2016 when he purchased a rickety cornet online. After realizing the cornet could not be restored into playing condition, Choi began contemplating other uses for the antique-looking instrument. When he saw images of lamps crafted from recycled goods, Choi found his inspiration.
"I saw the cornet sitting there and said, 'I could do this,'" Choi recalled.
During winter break, Choi worked in the garage of his family home in suburban Chicago. He taught himself soldering and wiring basics and incorporated the trumpet valves into the design by lathing off the valve sections so that they would both compress and accommodate wiring. He then routed a power switch into the lamp wires before press fitting the wired button into the valve casing.
"It was a massive learning curve," Choi admitted.
When he finished the lamp, he proudly shared a photo on Instagram, where a number of people asked if they could purchase the lamp.
"I never intended to sell this," Choi said. "The response was unexpected and overwhelming."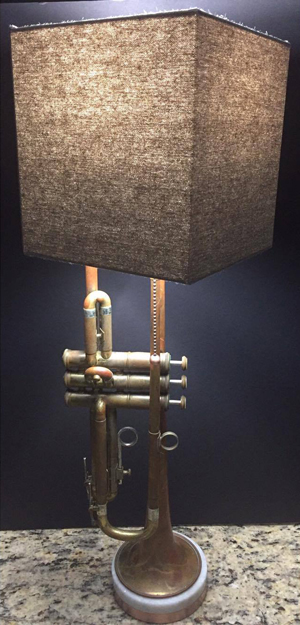 When the academic year ended in June 2017, Choi returned home, charged into a summer internship at Freudenberg Household Products, and resumed his passion project. He visited local garage sales and surveyed Craigslist to purchase old instruments.
On evenings and weekends, he toiled in the family garage while listening to podcasts about entrepreneurship and creating small businesses. He leveraged his coursework in mechatronics to build the lamps and ventured into new designs like capacitive touchscreens, while also focusing on simple, robust, and elegant solutions honoring the design thinking ethos that has been woven throughout his engineering education.
"It was all about how I could make my hands more useful," said Choi, who is enrolled in Northwestern Engineering's BS/MS program in mechanical engineering.
To date, Choi has created and sold about a dozen lamps. Initially, he dedicated profits from each sale to local music teachers so they could purchase instruments for students and provide lessons. He also earmarked proceeds directly to individual students to fund music camps or projects.
More recently, Choi teamed up with Simple Gifts, a Northwestern-based startup connecting underprivileged youth to musical instruments. Specifically, Choi is using the publicity from his lamps to highlight Simple Gifts's noble work.
"I know music can have a big impact on one's life and I'm grateful that the mission of Simple Gifts aligns with my values and desire to give students the gift of music," Choi said, adding that the ongoing project has motivated him to think more creatively about how art and technology might continue to intersect in his life.
"I've fallen in love with this project because it's allowed me to see how music and engineering can be intertwined," he said. "It's been the best justification for me to keep these parallel tracks going."