Events
Segal Design Leadership Series Presents IBM Design's Phil Gilbert
Gilbert will present to the Northwestern community on February 26
With more than 1,600 professional designers and 100,000 employees certified in IBM Design Thinking, IBM Design has made IBM the largest design-thinking organization in the world, poised to address today's most complex challenges through bold and innovative products.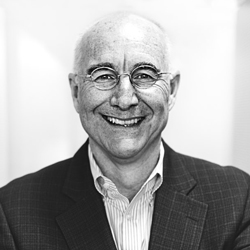 As part of the Segal Design Leadership Series, general manager of IBM Design Phil Gilbert will visit campus later this month to share how IBM Design Thinking is helping IBM meet the world's demand for fast, capable decision making by emphasizing inclusive, interdisciplinary teams and a focus on user outcomes.

Presented by the Segal Design Institute, the seminar will take place at 4 p.m. with a reception to follow at 5 p.m. on Monday, February 26 at the James L. Allen Center, 2169 Campus Drive on Northwestern's Evanston campus. Called "Every Day is a Prototype," Gilbert's talk will explore insights he's gained transforming one of the world's oldest and most respected technology companies using human-centered design and a willingness to restlessly reinvent.

Gilbert has led the IBM design program since 2012, spearheading a broader transformation of how the company's teams understand and solve complex problems. Previously, he led the business process management segment for IBM, where he drove the simplification of its portfolio and the ease-of-use of its products. He joined IBM in 2010 via the acquisition of Lombardi Software, where he served as president. 


Gilbert is a recognized leader in the technology industry, having led three successful start-ups, and is in demand around the world as an acknowledged expert and thought leader on topics of portfolio and software design, design governance, strategy, and culture. He has received multiple patents and was recently invited to advocate before the US Congress for a new "Digital Americans with Disabilities Act."