Events
Pop-up Course Explores Bitcoin and Blockchain Basics
Members of the cryptocurrency ATM startup CoinFlip visited campus on February 1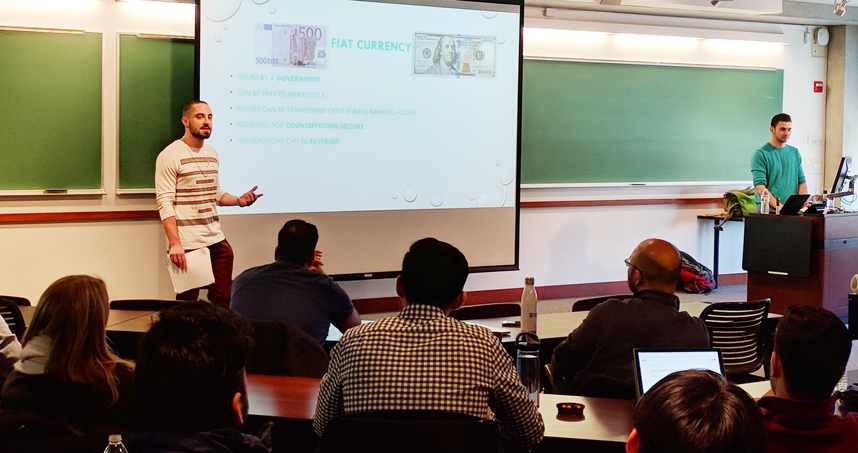 Daniel Polotsky hopes dollars and cents are soon a thing of the past.
As the co-founder and CEO of CoinFlip, a Bitcoin ATM service, Polotsky has spent the last three years exploring the potential of cryptocurrency, a new, digital asset class that lacks the inflationary tendencies of government-issued fiat money — like the US dollar — and the transferability challenges of gold.
"You're not going to bring a piece of gold to Walgreens and purchase a candy bar," Polotsky said. "Gold is heavy, difficult to move, and hard to spend. But gold is a long term deflationary store of value. While dollars can be printed indefinitely and inflated, the limited amount of gold that exists preserves its value over time."
Polotsky (Weinberg '17) and CoinFlip's Benjamin Weiss visited campus on February 1 to present "Intro to Bitcoin and Blockchain," an hour-long, introductory pop-up class that tackled the technology behind Bitcoin and the potential benefits of cryptocurrency in the 21st-century economy. Hosted by the Farley Center for Entrepreneurship and Innovation, the event took place in the Ford Motor Company Engineering Design Center.
Understanding Bitcoin
Created by Satoshi Nakamoto in 2009, Bitcoin is a peer-to-peer cryptocurrency that lets people send money — called bitcoins — to virtual wallets through a public ledger known as the blockchain. The system's computer protocol and software built the currency to be deflationary and maintained without government or bank regulations.
"Think of Bitcoin as digital gold," Weiss said. "It's a monetary system that is completely digital, but still has the properties of gold that are so beneficial."
Like gold, bitcoins are mined, but not from the ground. Powerful computers, called miners, attempt to solve complex computational equations within the Bitcoin software — successful efforts awarded with extracted bitcoins. To preserve the currency's scarcity, the software limits the number of bitcoins that can be mined to 21 million. Polotsky and Weiss estimate that 16 million bitcoins have already been found.
In addition to excavation, Bitcoin's miners also serve another purpose: fraud protection. With no central government or bank to provide oversight, miners use blockchain to verify every Bitcoin transaction, ensuring the same bitcoins aren't spent twice. In exchange for keeping Bitcoin operating as a decentralized system, miners receive a portion of bitcoins from each transaction they confirm.
"Even now, we don't use cash often," Weiss said. "We keep our money in bank accounts and rely on the good faith and credit of banks to make sure that money is safe. For the United States, that largely works, but half of the world does not have access to bank accounts."
"Bitcoin is borderless money," Weiss continued. "So much of business is international now. It makes sense to have an internet-based currency that is suited for the globalized economy."
Entering the Bitcoin Economy
Interested in making the process of buying bitcoins easier, Polotsky founded CoinFlip in 2015 while studying economics and Russian at Northwestern. Today, the company operates 36 walk-up Bitcoin ATM machines in Illinois, Nevada, Wisconsin, Tennessee, and North Carolina. With just a few presses of a button, customers can buy bitcoins or send them to friends and family.
"One of the big reasons customers use our machines is remittances," Weiss said. "Customers use CoinFlip to send money to their families in countries like Mexico or India because it's cheaper than Western Union, and you don't need to wait for a bank to open. With Bitcoin, you can send money across the world in ten minutes."
Polotsky recognized that Bitcoin faces several hurdles before earning widespread adoption and acceptance. The anonymity offered by Bitcoin transactions has made it a source for money laundering, drug deals, and other financial crimes. He added that negative media coverage, scams, and volatile swings in Bitcoin's value have made potential customers hesitant to enter the market.
And while potential exists for savvy investors to profit by committing early to this new and growing asset class, Polotsky cautioned by offering some common advice.
"Only invest what you would be willing to lose," said Polotsky, who took the Farley Center's ENTREP 395: Growing and Monetizing Your Fanbase course while developing CoinFlip at Northwestern. "We've seen customers invest their life-savings into cryptocurrencies. If you overextend an asset, it clouds your decision-making and you end up losing."
Polotsky and Weiss will return to campus on February 15 to explore cryptocurrency further with a sequel pop-up course called Crypto and Blockchain Deep Dive. Visit EventBrite for more information and to register for the course.