Announcements
Professor Emeritus Robert Gemmell Passes Away
Civil and environmental engineer was an expert on water resources and sanitary engineering
Robert Gemmell, professor emeritus of civil and environmental engineering at Northwestern University, passed away at age 84 on September 17, 2017. He will be remembered as a devoted teacher and mentor, dedicated researcher, and valued colleague and friend.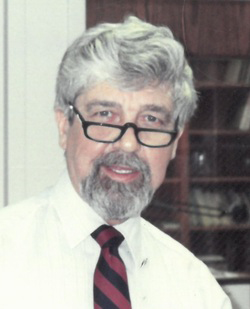 Gemmell was an early pioneer for environmentalism. A member of Northwestern's faculty since 1964, he was an expert on water resources and sanitary engineering.
He joined Northwestern from Harvard University, where he served as a lecturer and research fellow. He earned his bachelor's and master's degrees in civil engineering from the Ohio State University and his PhD from Harvard University.
During his time at Northwestern, Gemmell led important research in urban wastewater collection and treatment plants. He also directed a wastewater management study for Lake Michigan and drew up guidelines for public utilities planning. Committed to understanding how humans affected the environment, he developed two classes for Northwestern that were first offered in 1973: Simulation Models in Environmental Health Engineering, and Environmental Impact Analysis.
Even as a young assistant professor making his way into academia, Gemmell's dedicated work ethic and spirited research caught the attention from others across the civil and environmental engineering field.
"His publications always show thorough and imaginative work," said Gemmell's colleague at the Illinois State Water Survey in a 1967 letter. "He has strong reverence for principles, and I have the distinct impression that he has a sincere concern for basic research related to environmental health problems."
A member of the American Society of Civil Engineers, Gemmell became a leading authority in the area of water research. He represented Northwestern on a state-wide committee for the Water Resources Center, served on committees for the American Water Works Association and International Water Resources Association, and participated in the First World Congress on Water Resources. He also served as a consultant for government, industry, and non-profit organizations, including the US Army Corps of Engineers, Argonne National Laboratory's Center for Environmental Quality, and the US Department of Housing and Urban Development.
Gemmell was a devoted mentor to his students. He served as faculty adviser to Northwestern's student chapter of Chi Epsilon and the American Society of Civil Engineers and guided many graduate and doctoral students working in environmental systems planning. In his 1963 application to Northwestern, he reinforced his main goal to become an extraordinary teacher.
"My primary interest is teaching," he wrote. "However, I feel that participation in research is essential for the continued development of a university teacher."
Although he enjoyed his time at Northwestern, Gemmell most loved his family and friends. Outside of work, he was an active member of the Evanston Environmental Board and the First Presbyterian Church. He is survived by his wife Janet; children Laura G. Korizon, Heather (Drew) Walker, Valerie G. Pogue, and Andrew V. (Cindy) Gemmell, and many grandchildren and great-grandchildren.
A service will be held at 2 p.m. on Wednesday, September 20 at the Donnellan Family Funeral Home, 10045 Skokie Boulevard, Skokie. Memorial donations may be made to the Environmental Law and Policy Center or the Alliance for the Great Lakes.