Undergraduate
Solving Global Problems with Engineering
Engineers Without Borders works with communities to identify underlying problems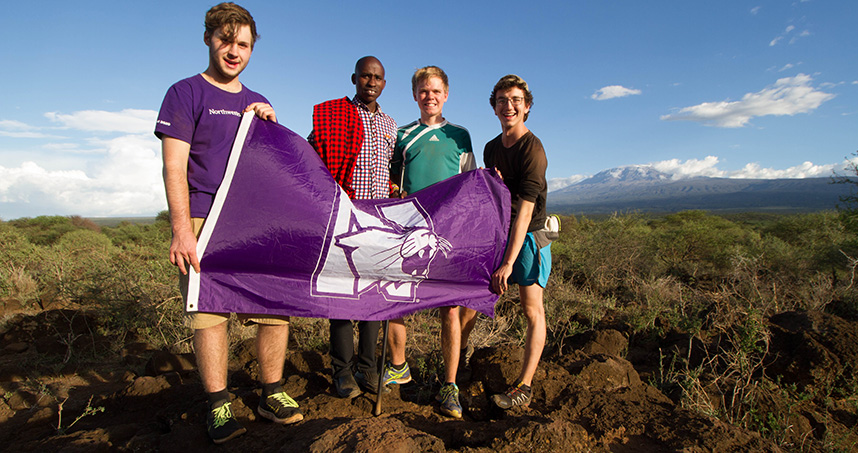 Although it is landlocked, Los Llanos, Guatemala has become something of an island.
Located just 19 miles south of the country's capital, the village is virtually impossible to access due to deteriorating roads and a mammoth, 50-foot-deep ravine. 
"The ravine has isolated Los Llanos from commerce, travel, and trade," said Northwestern Engineering senior Jacob Morgan.
As president of Northwestern's chapter of Engineers Without Borders (EWB-NU), Morgan hopes to help reconnect Los Llanos with the rest of the world. With guidance from David Corr, the Charles Deering McCormick University Distinguished Clinical Professor of Civil and Environmental Engineering, EWB students are working with the village's community to build a vehicular bridge across the ravine.
Collaborating with community
Founded in 2001, EWB-USA is a national organization that pairs groups of students and professional engineers with communities in the developing world. A small group of engineering students founded Northwestern's chapter in 2013. It has since grown to 30 members, 25 of which are engineers. EWB's goal is to work with communities to pinpoint their needs and implement engineering solutions that improve lives.
"We do a lot of research to identify underlying needs," Morgan said. "We meet with community members in churches and in their homes and work with them on solutions. We want to make community members feel happy and empowered when we leave."
Morgan said others' past mistakes have enforced this strategy. He cites another organization that, after noticing that an African town's women walked two miles to fetch water, built a water pump in the town's center. When the organization's members returned a year later, they discovered that the pump had gone unused.
"What they didn't know was that women used the long walks to gather water as a way to talk and build community," Morgan said. "That was important time for them, and it had gone completely unnoticed."
EWB-NU is applying their signature community-minded approach to its bridge project in Guatemala. A team of students will make its first visit in December to assess the ravine and find the optimal location for the bridge to best serve the community.
Try, try again
EWB-NU's first — and still ongoing — project remains in Kenya. The group has made five trips to Kimuka, a small Maasai village just outside Nairobi, to work on a clean water project. Prior to EWB's involvement, villagers drank and used water from small ponds, in which animals also bathed. During their first assessment trip, students tested the water and discovered E. coli and coliform contamination. Up to 60 percent of the village children require monthly doctor visits due to ingesting these deadly forms of bacteria. And not only is the water dangerously contaminated, it's remote. Families often travel from one to three kilometers per day just to reach these small ponds, which are formed by surface run-off and rain water.
Three years ago, the Northwestern team implemented a water pump but quickly found it only introduced new complications. The pump wasn't powerful enough to extract water from a three-kilometer deep well. When the team solved this problem by implementing a booster pump, the cost of water quintupled, making it unaffordable for the community to use on a regular basis.
"The pump used too much energy," Morgan said. "Not only could that cause the pipe to burst, but it's very wasteful. As engineers, we want to create a solution that will be cost-effective and sustainable for many years to come."
The team met with the community water committee, Kenya Power, and individuals to better understand the problem. Then they put their engineering skills to work. They ran new calculations to find the exact pressure that the pipe could handle, the amount of electricity it could draw, how quickly it could fill the tank, and how best to reduce costs. When the team returns over spring break in March, it will continue to work to find an optimal solution.
"I'm proud of what our team has done," Morgan said. "We will expand the system as we go — one step at a time."
Closer to home
Although it might take several more years until the bridge is completed in Guatemala or until the water pump is fully perfected in Kenya, EWB-NU is actively working to fulfill other goals closer to home. Group members participate in a mentorship program with Chicago Public Schools, making weekly visits to Frank W. Reilly Elementary School to discuss science and international aid. This year, EWB-NU helped students design cities for the Chicago Future City Competition, and two teams won three special awards for best education enhancement, excellence in mobility technology, and for water resources.
Morgan said EWB-NU is also working to attract more diverse members to its team. Now, it comprises mostly engineering students with two Medill students who work on marketing and outreach. Morgan eventually would like to see 25 percent of student membership from outside of engineering. To help spread the word about EWB, it holds quarterly film screenings and organizes profit shares with local restaurants.
Morgan believes all the hard work — on campus and beyond — is worth it.
"It's amazing to see the connection between our work and improving lives," Morgan said. "The work we do matters, and the communities hold us to our promises. It's a lot of pressure to have that kind of responsibility, but it's satisfying to design lasting solutions."