Undergraduate
Solar House Readies for Competition
Ribbon-cutting ceremony took place Wednesday, August 23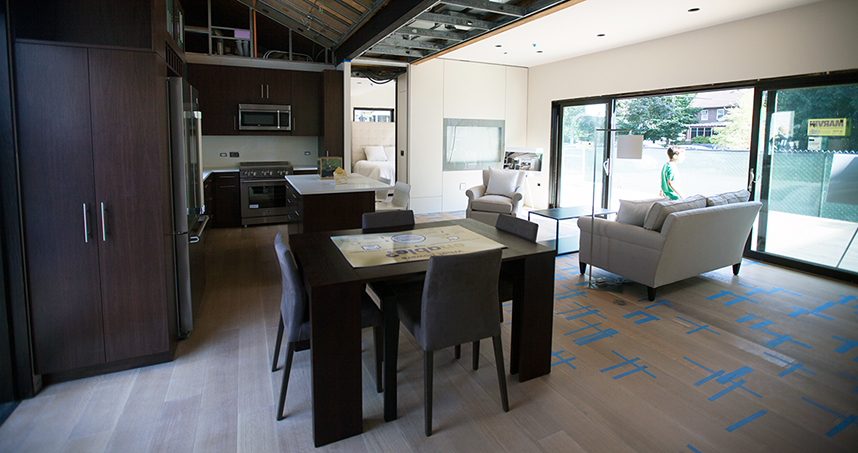 People might expect a solar house to be futuristic and sterile, but the student-built House by Northwestern is cozy, warm, and inviting. Its student designers selected every detail with thoughtfulness and care, taking into account their end users' comfort and needs. 
That's what sets it apart from other model homes. It's not just a solar house — it's a solar home.
"We spent a lot of time interviewing people and researching what makes a house a home," said Northwestern Engineering junior Vivien Ng, who led the house's interior design. "Homes needs to appeal to the five senses and have a human touch. We want the owners to feel happy to live there."
Ng joined the rest of the student team, sponsors, faculty, and guests August 23 for House by Northwestern's official ribbon-cutting ceremony in Evanston. Called "Enable," the house is Northwestern's first-ever entry into the US Department of Energy Solar Decathlon, a competition that showcases innovative solar-powered houses designed, built, and operated by collegiate teams from around the world.
Northwestern's student team worked around the clock for three months to complete its entry, which will be deconstructed and shipped to Denver next month. Students will then have nine days to reconstruct the house and build its garage for the October 5-15 competition.
Before diving into the house's planning and design, the students first identified their target market. They selected people ages 55 to 70 who lacked options for homes where they can age-in-place. Throughout their research, in fact, students discovered that only 1 percent of current US homes have key features to support aging-in-place.
To meet this need, the team designed Enable with elements that support an active lifestyle while meeting accessibility requirements outlined in the Americans with Disabilities Act, such as zero-step entrances and single-floor living. The house also features Luna Lights, developed by a Design for America startup, which uses an ultra-thin sensor and a lighting system to illuminate pathways to the bathroom or bedroom when a user leaves his or her bed.
"We wanted to make downsizing exciting," said Northwestern Engineering senior Stephen Staley, the team's construction manager. "It's technologically advanced, inexpensive to maintain, and multifunctional. People shouldn't have to downsize to a boring ranch home."
And Enable is definitely not boring. The roof is lined with solar cells that harvest enough energy to power both the entire house and an electric car in the garage, with energy left to spare. The house also has self-cleaning windows and walls that break down air pollutants. 
"The sun not only powers and charges the house but also cleans it," said faculty director Dick Co.
The students took energy efficiency into account for every decision when selecting materials for the house. The kitchen countertops, for example, look like stone but are made from the same type of glass used in smart phone screens. Not only is this material more durable, it is also more environmentally friendly because it doesn't require mining or the transportation of stone. 
At the ribbon-cutting ceremony, Co thanked industry partners Adrian Smith + Gordon Gill Architecture, FedEx Freight, GAF, and Marvin Design Gallery. He also thanked the students for their hard work and the Northwestern community for its support.
"It takes a village to build a house," said Co, chemistry professor and managing director of Northwestern's Solar Fuels Institute. "We are so proud to be on this team and see the outpouring of support."
Although the end product is impressive, the students most valued the process of designing and constructing it from scratch.
"None of us had ever built a house before, and this experience threw us into the deep end," said Northwestern Engineering senior Sophie Sisson, one of the team's captains. "It was definitely different from a traditional summer internship."
"This was highlight of my student career," added Ng, who majors in manufacturing and design engineering. "We learned everything that goes into a house and get to see the project come to completion."