Honors and Awards
Laurence Marks to Receive Surface Structure Prize
Award honors Marks' outstanding achievement in the field of surface and interface structure
Northwestern Engineering's Laurence Marks has been selected to receive the 2017 Surface Structure Prize from the International Conference on the Structure of Surfaces (ICSOS). The international award each year recognizes a researcher for outstanding achievement in the field of surface and interface structure.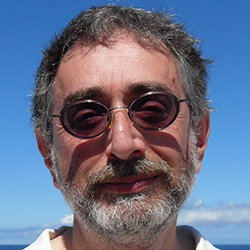 Marks, a professor of materials science and engineering, will officially accept the award at the ICSOS-12 meeting, held July 23-28 at the Georgia Institute of Technology.
"It is a great honor to receive this prize from my peers all over the world," Marks said. "I really owe everything to my very talented graduate students — both past and present — and to the patience of my wife."
A theoretical and experimental engineer, Marks is renowned for his contributions to the study of nanoparticles and his work in the fields of electron microscopy, diffraction, and crystallography. He discovered a type of nanoparticle, the Marks Decahedron, which has become his most highly cited work. His current research interests include transmission electron microscopy, density functional theory methods, direct methods for inversion of diffraction data, surface science particularly of oxides, tribology, hip replacements, and nanoparticle structure, growth, and plasmonic properties.
In 2001, Marks was elected fellow of the American Physical Society for his "contributions to quantitative imaging and diffraction methods for determining the atomic structure of surfaces and bulk materials." He has received several awards, including the 2015 Warren Award from the American Crystallographic Association for his contributions to electron diffraction, a Sloan Foundation Fellowship from the Alfred P. Sloan Foundation, and the Burton Medal from the Electron Microscopy Society of America. He also served as the 2015 Astor Visiting Lecturer at the University of Oxford.
A member of the Northwestern faculty since 1985, Marks earned his BA and PhD from the University of Cambridge.