Undergraduate
NUSTARS Soars High
Northwestern's space technology and rocketry team completes successful year
On the way to NASA's Midwest High-Power Rocketry Competition last year, Shawn Sobel and his teammates soldered their rocket together in the backseat of a moving car. After having experienced a comedy of errors, they felt emboldened to persevere.
"We all looked at each other and said, 'We're not going to give up,'" said Sobel, a senior in mechanical engineering and president of the Northwestern University Space Technology and Rocketry Society (NUSTARS). "It's rockets. Something always goes wrong. But we were committed to doing whatever it took to compete."
A week before the competition, the rocket had unexpectedly exploded. After the NUSTARS team completely rebuilt the rocket's bottom half, its electronic system fried the night before the competition. Team members stayed awake that entire night, using their car headlights to illuminate the rocket as they again rebuilt it in a driveway.
"I maybe got 30 minutes of sleep," said Sobel, who joined the team as a freshman. "We weren't on plan B or C. We were on plan F."
The right stuff
NUSTARS has come a long way since that storied competition in North Branch, Minnesota. Even though the team ultimately placed sixth, which Sobel calls "a miracle," its members analyzed what went wrong and vowed to learn from their mistakes. Those lessons paid off during the 2016-17 competition season, in which the NUSTARS team consistently placed in the top five or higher in several competitions.
A season highlight, the NUSTARS rocketry team took second place at the 2017 Battle of the Rockets altitude target competition, during which a rocket must hit an altitude of exactly 1,213 feet. After the first two launches, NUSTARS led the competition. The last launch, however, knocked them into second place.
"We would have gotten first place, but our rocket landed in a pond," Sobel said. "So we couldn't retrieve the flight data from that last flight."
NUSTARS also took fourth place in the competition's Advanced Planetary Lander Event, in which rockets are judged by their ability to deploy landing equipment. The rocket then placed fourth out of 60 teams in the NASA Student Launch in Huntsville, Alabama. That competition challenged rockets to hit an altitude of one mile.
"Our designs were much more mature this year," Sobel said. "We used to have things go crazy wrong, but now we're better organized and have more design experience. Our designs are super robust and tested."
Hitting altitude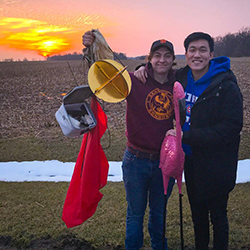 Over the past two years, NUSTARS' membership has boomed, hitting an all-time high of more than 60 active members. The elevated interest encouraged Sobel and his teammates to divide the rocketry team into two sections: one with more experienced members and another for beginners who want to build a foundation for their skills and become rocketry certified. The increase in members resulted in an increase in launched rockets. NUSTARS has launched 25 to 30 rockets over the past year — and only two have landed in a pond.
Advised by Nick Marchuk, senior lecturer in mechanical engineering, NUSTARS also has near-space exploration, research, and education and outreach teams. Called RASCAL (Revolutionary Aerospace Concepts-Academic Linkage), the research team competed for the first time this year and made it all the way to the semi-finals. Competing in engineering design competitions, RASCAL team members create innovative exploration approaches to address annual themes, such as designing modules for the International Space Station or planning a crewed mission to Mars.
"We don't do the same thing ever year," Sobel said. "We do what's cutting-edge and interesting to most students."
The Near-Space Exploration Team (NSET) assembles weather balloons — complete with various sensors, flight computers, and lightweight cameras — to explore high-altitude settings. This summer, the NSET team will launch a weather balloon, which will locate the sun, stabilize itself, and live-stream the August 21 total solar eclipse.
NUSTARS' education and outreach team visits local schools to excite young students about science and building rockets. Sobel shared a similar experience as a kid. He remembers a teacher challenging his class to build small rockets. He immediately connected with the feeling of "working hard and getting something off the ground." That experience piqued his interest in rocketry early and set him on his current course. Sobel will start work as a structural design engineer at Boeing after graduation.
Aside from the hands-on engineering experience, Sobel also loves the rocketry community. Even last year when NUSTARS struggled to ready their rocket for competition, teams from other schools took notice and approached to help.
"There is an awesome sense of mutual lack of sleep and love for rockets," Sobel said. "Everyone is in it together and wants to see each other succeed."