Events
Midwest Music and Audio Day Unites Engineers and Musicians
Day-long CS+Music symposium took place Friday, June 23
The cool electronic reverberations emanating from Daphna Raz's violin come from more than her bow gliding along the strings. They also come from her feet.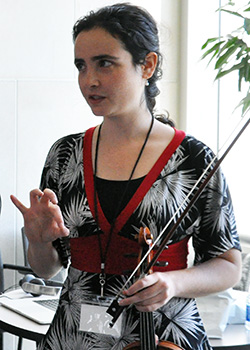 Raz, a graduate student in sound engineering and media arts at the University of Michigan, developed a wearable sensor for her foot that can alter how her violin sounds. By tapping her foot or swiping it along the ground in different directions, she can create different effects, such as reverb and distortion.
"It's similar to a guitar pedal," Raz said. "Except it's more seamless and doesn't make that obvious clicking noise that draws attention to itself."
Raz's foot-gesture-controlled device was just one CS+Music innovation presented at Northwestern Engineering's 2017 Midwest Music and Audio Day. The day-long event took place Friday, June 23 in the Ford Motor Company Engineering Design Center.
Christopher Raphael, professor of informatics at Indiana University, delivered the keynote speech, "The Informatics Philharmonic," in which he discussed ongoing work to create a computer system that acts as a musical accompanist. His application simulates a concerto-like setting for a live soloist, who leads the interactive, real-time audio production.
Supported by the Barry and Mary Ann MacLean Fund for Art and Engineering, the day welcomed 50 artists and audio processing researchers who work and study at the intersection of music and computer science. Attendees included researchers from Northwestern, University of Michigan, Indiana University, University of Illinois at Urbana-Champaign, New York University, University of Rochester, University of Iowa, Carnegie Mellon University, and professionals from Bose, Shure, GN, 2112, mProve Health, HDpiano, Soundslice, and Huron.
"I want to see artists and researchers from around the Midwest actually get to know each other," said event organizer Bryan Pardo, associate professor of computer science, music theory, and cognition. "It takes work for academics to reach out to industry or for artists to reach out to academics. Sometimes they don't even know who to reach out to. This event connects people from different fields and helps them start conversations that they might not have had otherwise."
Pardo runs Northwestern Engineering's Interactive Audio Lab, which uses machine learning, signal processing, natural language processing, and database search techniques to make new auditory tools and interfaces. At the event, Pardo discussed his work to isolate and extract sound sources in an audio scene. 
In addition to 15 talks by artists and engineers, the event included eight research posters showcasing cutting-edge new work, such as new apps to search sounds, tools to "de-noise" speech, and Raz's gesture-controlled sensor. Michael Donovan, an undergraduate researcher in the lab, also presented a new audio search tool called SoundSeek.
"Artists often use pre-existing tools but don't think to talk to the tool-builders," Pardo said. "We hope to spark new collaborations and conversations within our local community."