Events
Artist Pedro Reyes Discusses Art as Activism
Reyes' visit was a part of the Dean's Seminar Series on May 18
It started with guns and ended with trees.
In 2007, the Mexican government donated 1,527 confiscated guns to interdisciplinary artist Pedro Reyes. After steamrolling the guns and then melting them in a foundry, Reyes transformed the gun metal into 1,527 shovels to plant 1,527 trees.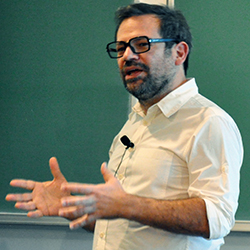 "The hope was that the transformation was not only physical but psychological and social," Reyes said. "We turned an agent of death into an agent of life."
A part of the Northwestern Engineering Dean's Seminar Series, Reyes discussed this project, called Palas por Pistolas, and other examples of his work, which spans sculpture, architecture, video, puppetry, and performance. Co-sponsored by the Mary and Leigh Block Museum of Art, the seminar took place Thursday, May 18 in the Ford Motor Company Engineering Design Center.
In Mexico City, where Reyes grew up, many expected him to become an engineer like both of his parents. Although his life took a different path, engineering skills affected his artwork and way of viewing the world. In particular, he enjoyed learning the basics of engineering drawing and sketching.
"That spatial understanding later became very useful for me in sculpture," Reyes said. "I knew that if you could draw it, you could build it. Drawing gave me the keys to the world."
Reyes puts these skills to work creating conscientious art pieces that draw attention to social, environmental, and political issues. In Palas por Pistolas, for example, Reyes aimed to increase awareness around the violent drug trade and high rate of gun deaths in Mexico. People used shovels created from the project to plant trees in cities around the world, including Vancouver, San Francisco, and Paris. 
After Palas por Pistolas's success, the Mexican government offered Reyes 6,700 more confiscated weapons. Instead of making more shovels, Reyes opted to try something different. He joined with engineers and musicians to turn remnants of the destroyed weapons into working musical instruments that formed a mechanized orchestra. Called Disarm, the project included some recognizable instruments, such as guitars and violins, and some novel instruments, such as the xylophone-like "Canonofono."
As in Palas por Pistolas, Reyes again aimed to turn "agents of death" into more positive objects. "Weapons are meant to kill and produce fear. There is a psychology behind that — a market driven by fear," he said. "Music is exactly the opposite. It's about trust."
Reyes went on to share videos and images from some of his other pieces, including a theater performance called Amendment to the Amendment, in which participants from the University of San Francisco College of Arts community made a collaborative, public effort to revise the US Constitution's Second Amendment. He also presented Sanatorium, a traveling clinic that provided mental health therapies, and Grasswhopper, an edible burger made from insects, which Reyes believes could help solve climate change and world hunger.
"I know it sounds wild," he said. "But I think it's the way of the future."
During the post-lecture Q&A session, an audience member asked what topic Reyes will explore next. Reyes replied that he would like to tackle "the problem of libraries," as he has become increasingly disturbed by the public's reliance on the Internet for information instead of books. The dwindling interest in libraries has caused librarians to take more and more books off the shelves and put them into storage.
"I want to make sure that in the future, we still have a past," Reyes said. "That we can still navigate the pre-Internet era."