Honors and Awards
Peshkin Receives National Educator Award from ASEE
Ralph Coats Roe Award recognizes outstanding teachers in mechanical engineering
Northwestern Engineering's Michael Peshkin has been selected to receive the 2017 Ralph Coats Roe Award from the American Society for Engineering Education's (ASEE) mechanical engineering division.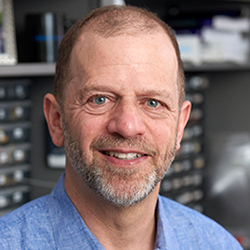 The annual award recognizes a mechanical engineering educator who is an outstanding teacher and has made notable contributions to the profession. The ASEE selected Peshkin for "his sustained efforts to provide students with design/build/debug experiences, particularly in the context of practical electronics for mechanical engineers."
Peshkin will officially accept the award at the ASEE annual conference in Columbus, Ohio in June.
Since joining Northwestern in 1987, Peshkin has practiced innovative teaching methods. He has worked to revitalize engineering courses by removing "cookbook-like instructions" that offer little creativity in the laboratory. Instead, he empowers his students to think and work like engineers. He developed the ME 233 Electronics Design course, for example, which prepares students for real electronic design challenges by emphasizing practice-based design and debugging. He also developed GEN_ENG 295 Makerskills, Northwestern's first "maker" course for first-quarter freshmen.
"I deeply appreciate the encouragement, resources, and free rein that my department chair and colleagues have given me, over many years, to develop atypical courses," said Peshkin, professor of mechanical engineering in Northwestern's McCormick School of Engineering. "I hope this award will provide my courses and curricula with additional visibility at other engineering schools, as I would love to see more hands-on teaching and learning in college classrooms."
In addition to developing new classes, Peshkin has also created tools to help students learn. Students in ME 233 use Peshkin's "lab in a backpack," a kit that, when used with a laptop computer, forms an electronics workbench. Furnished with an oscilloscope, function generator, power supply, and a selection of electronics parts, the device allows students to build, measure, and test electronics and even acquire data onto their computers. Using the lab-in-a-backpack, students can work on electronics anywhere — in the classroom, at home, in coffee shops, and carrying forth projects into other classes. Instructors in Northwestern's Department of Biomedical Engineering dubbed the kit as the "Peshkin Box" and use it in their classes.
"I lecture for about five minutes at a time, and then the students use the lab-in-a-backpack to immediately try out what they learned," he said. "The classroom has become an active place, where students talk, work together, and build things."
The lively classroom environment attracts and inspires students. Aaron Horowitz ('12), who is now the president and CEO of health startup Sproutel, remembers walking into ME 233 and initially feeling overwhelmed until Peshkin put him at ease.
"[I had] no prior knowledge of electronics, and Professor Peshkin made me feel as though nothing was insurmountable," Horowitz wrote in a letter, nominating Peshkin for the Roe Award. "This was in large part due to his project-driven and hands-on teaching style. While we learned all the fundamentals and formulas, we were encouraged to play, test, and iterate." 
Peshkin also developed the Lightboard, a glass chalkboard embedded with LED lights that allows instructors to write equations and drawings and create video lectures while facing the camera. More than 50 institutions have used the open-source instructions to build their own versions of Peshkin's Lightboard.
The Roe Award is not Peshkin's first teaching award. He has received two of Northwestern's highest recognitions for excellence in teaching: the Charles Deering McCormick Professorship of Teaching Excellence and the Bette and Neison Harris Professorship in Teaching Excellence.
Outside of teaching, Peshkin is a prolific inventor and entrepreneur. A fellow in the National Academy of Inventors and member of the Chicago Area Entrepreneurship Hall of Fame, he and longtime collaborator Professor Ed Colgate explore the human-machine interface and robotics. This work has led to several spinoff companies, including Tanvas, which is developing surface-haptic technology that allows people to feel what they seen on a flat, glass touchscreen.