Events
Dean's Seminar Series to Welcome Mark Mills
The seminar will take place at 4 p.m. on Tuesday, April 11
Mark Mills believes that emerging domains of manufacturing are poised to breathe new life into the US economy. Just as the tech boom gave rise to a whole new economy in the 1990s, Mills predicts that bioelectronics, transient electronics, electroceuticals, and the "Internet of things" could have a similar effect.
As a part of the Northwestern Engineering Dean's Seminar Series, Mills will discuss these ideas and more when he visits campus next month.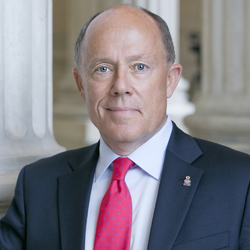 "Manufacturing as a Service: The Emerging Revolutions in How and What We Produce" will take place at 4 p.m. Tuesday, April 11 in the Ford Motor Company Engineering Design Center's ITW classroom.
Mills is founder and CEO of Digital Capital Power, a tech-centric capital advisory group. He also co-founded the Digital Power Group, Digital Power Capital, and ICx Technologies. A trained physicist and development engineer, Mills served as a staff consultant to the White House Science Office under President Ronald Reagan, a number of federal research laboratories, and the US Department of Energy.
Mills is also a senior fellow at the Manhattan Institute, which performs research and advocacy for economics and policy. He is a faculty fellow at Northwestern Engineering, where he delivers occasional seminars, mentors students, advises faculty, and provides counsel to leadership on matters of strategy and opportunity.
Recently named "Energy Writer of the Year" by the American Energy Society, Mills has written extensively about various aspects of energy, including energy policy, energy-related technologies, fracking, and the relationship between energy and data. A columnist for Forbes, he has published widely, with works appearing in The Wall Street Journal, The New York Times Magazine, USA Today, and elsewhere. Mills's 2005 book, The Bottomless Well, reached number one on Amazon's ranking of science and math publications. He is also a frequent guest on CNN, NBC, PBS, and Fox and has appeared on The Daily Show.