Announcements
Former Dean Bruno Boley Passes Away
Boley was the dean of the McCormick School of Engineering for 13 years
Bruno A. Boley, former dean of Northwestern's McCormick School of Engineering, passed away on Saturday, February 11, 2017 at age 92. He was a member of Northwestern's faculty for 16 years and served as dean for 13.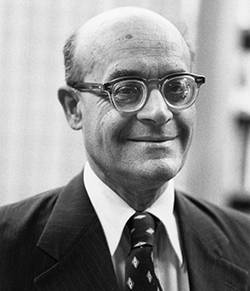 Boley was born on May 13, 1924 in Gorizia, Italy. His family migrated to the United States in 1939 on the last sailing of the RMS Queen Mary before the start of World War II.
Driven by his love for learning and science, Boley studied civil engineering at the College of the City of New York, where he earned his bachelor's degree in 1943. Boley then spent three very busy years at the Polytechnic Institute of Brooklyn. He took his first academic job as director of the Institute's Aerostructures Laboratory in 1943. While working, he earned his science doctorate in aeronautical engineering and became an assistant professor of aeronautical engineering after graduating in 1946. Two years later, he left the Polytechnic Institute of Brooklyn to join the Goodyear Aircraft Company in Akron, Ohio.
After returning to academia in 1950, Boley taught at The Ohio State University, Columbia University, and Cornell University before coming to Northwestern in 1972. Boley served as dean of Northwestern's Technological Institute until 1986 and then became a Walter P. Murphy Professor of Engineering. In 1988, he turned to Columbia University, where he stayed for the rest of his career.
A member of the National Academy of Engineering, Boley extensively studied the mechanics of solids and structures, including thermal stresses and deformations, vibrational and dynamical behavior, and mathematical methods of analysis. He published more than 100 technical articles on these topics as well as four books. His classic textbook Theory of Thermal Stresses has educated countless young scientists. Boley was also founding editor-in-chief of Mechanicals Research Communications, an international journal in the field of engineering mechanics.
Boley's many research contributions led to various honors and awards, including the 1991 Worchester Reed Warner Medal from the American Society of Mechanical Engineers, 1991 Theordore von Karman Medal from the American Society of Civil Engineers, and 2001 Daniel C. Drucker Medal from the American Society of Mechanical Engineers. He also received an honorary science doctorate from the College of the City of New York in 1982.
After a long scientific career, Boley devoted his time to historical pursuits. His book, Wondering through Europe: The Story of European Geographical Names (2009 Xlibris), took a humorous look at the anecdotes behind the names of Europeans places.
Boley is survived by his son Daniel, granddaughter Lelwani, and great-grandson.