Honors and Awards
Mark Mills Named 'Energy Writer of the Year'
The honor is given by the American Energy Society
Northwestern Engineering faculty fellow Mark P. Mills has been named "Energy Writer of the Year" by the American Energy Society (AES). The honor is considered the premier literary award for the energy sector.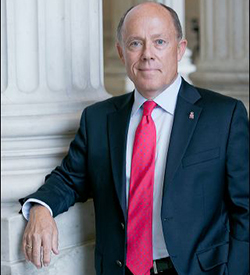 Mills has written extensively about various aspects of energy, including energy policy, energy-related technologies, fracking, and the relationship between energy and data. A columnist for Forbes, he has published widely, with works appearing in The Wall Street Journal, The New York Times Magazine, USA Today, and elsewhere. Mills's 2005 book, The Bottomless Well, reached number one on Amazon's ranking of science and math publications. He is also a frequent guest on CNN, Fox, NBC, and PBS, and has appeared on The Daily Show.
"The breadth of talent that supports energy is remarkable," said Eric Vettel, AES president. "But what sets Mark apart is his ability to make difficult topics in energy more accessible, his extraordinary skill capturing scale, his grasp of technological innovation, and his ability to step back and provide critical context."
As a faculty fellow at Northwestern's McCormick School of Engineering, Mills delivers occasional seminars, mentors students, advises faculty, and provides counsel to McCormick leadership on matters of strategy and opportunity. Dean Julio M. Ottino selects and appoints fellows who, by virtue of their knowledge and experience, can make unique contributions to the intellectual life and success of Northwestern Engineering.
Mills is also a senior fellow at the Manhattan Institute, which performs research and advocacy for economics and policy. He is founder and CEO of Digital Capital Power, a tech-centric capital advisory group. He also co-founded the Digital Power Group, Digital Power Capital, and ICx Technologies. A trained physicist and development engineer, Mills served as a staff consultant to the White House Science Office under President Ronald Reagan, a number of federal research laboratories, and the US Department of Energy.