Honors and Awards
Alumni Startup PhenixP2P Reaches Finals of TechCrunch's Startup Battlefield
The real-time video streaming platform was one of 13 startups chosen to participate in the distinguished competition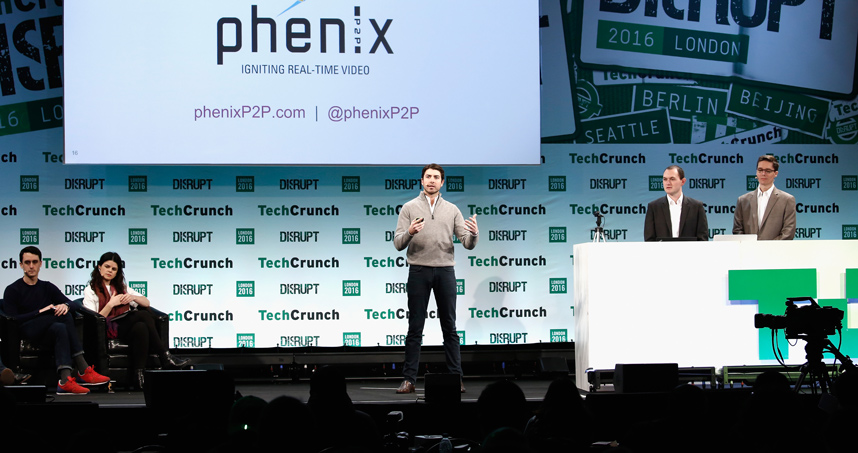 A startup with its roots in Northwestern Engineering recently earned a strong showing in one of the world's biggest startup competitions.
PhenixP2P, which offers a scalable, real-time video streaming platform with minimal latency, finished as one of five finalists in TechCrunch's Startup Battlefield event at its Disrupt London 2016 conference held on December 5-6.
Founded by alumnus Stefan Birrer (MS '04, PhD '08), PhenixP2P was one of 13 startup companies selected to participate in the competition, which included pitching the company's video streaming platform to a judging panel of leading entrepreneurs, investors, and technologists. Past participants in Startup Battlefield include Dropbox, Fitbit, and TrueCar.
"Startup Battlefield was an opportunity to showcase our company to a global audience," said Tripp Welge, PhenixP2P's chief operating officer. "To be recognized by TechCrunch was a validation of our technology and a sign of how important streaming is in the world today."
PhenixP2P's technology centers on its PCast™ platform, which the company leaders said offers the only scalable, real-time video streaming service in the world. While content providers increasingly seek to stream a variety of live video programming traditionally consumed through television — from football games to event news coverage — many have learned that reaching such large audiences online comes at a cost: scaling real-time streaming to more than a few hundred viewers induces latency or lag time in the stream, often as much as 15 to 60 seconds behind real time.
To preserve a true real-time experience, PhenixP2P's service provides high-quality video scalable to audiences in thousands of locations while preserving less than 300 milliseconds of end-to-end latency. The company founders believe the service could help establish a new standard of real-time communication and interaction centered around single-entity live-streaming of major events like sports, as well as group broadcasts of online webinars in the education and business fields.
For Birrer, PhenixP2P's CEO, the inspiration behind PhenixP2P took shape a decade ago during his time studying computer science at Northwestern as a graduate student. Working with Fabián Bustamante, professor of computer science, Birrer's research focused on how to distribute video streaming in P2P networks. He realized then that technology didn't offer a way to scale video streaming in real-time, and little has changed since.
"There's more demand than ever for real-time streaming online, and the capacity to do so is there, but the same problems remain in overcoming the shortcomings of current technology," said Birrer.
In addition to Birrer, PhenixP2P's executive team includes fellow Northwestern Engineering alumni Andreas Schuler (MS '01) and Philip Joseph (BS '03), who lead the company's engineering efforts and develops its proprietary platform algorithms. Bustamante, who serves as the startup's lead scientist, leverages his extensive background in large-scale networks and distributed systems to provide guidance on strategic positioning and building a competitive advantage in the emerging video streaming market.
After presenting on TechCrunch's big stage, Welge believes PhenixP2P is poised for growth in the coming year.
"Startup Battlefield was our go-to-market party," said Welge. "True to the theme of the Disrupt conference, PhenixP2P is ready to be brought to customers and change the way people experience real-time streaming."
Read more about PhenixP2P at TechCrunch's Startup Battlefield.