Announcements
Engineers Sweep 2016 Scientific Image Contest
Engineering entries took the annual competition's top five spots and six honorable mentions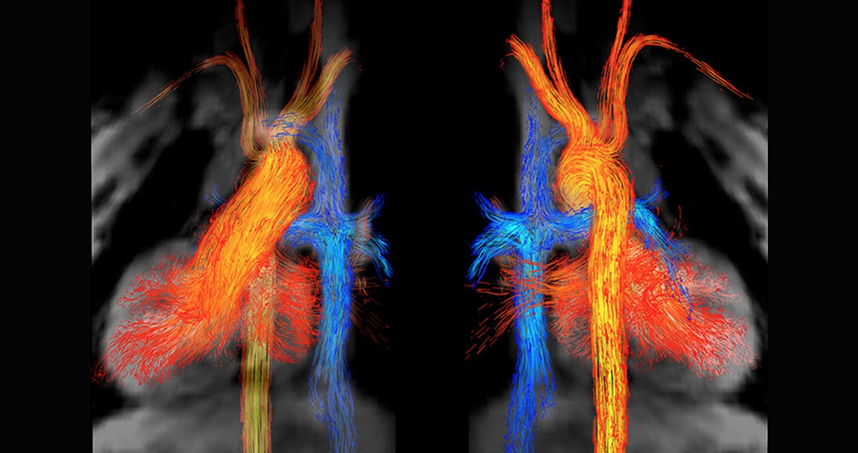 Northwestern Engineers are proving that science can be beautiful.
Science in Society announced the winners of its sixth annual scientific images contest, and engineering entries took the top five spots as well as six honorable mentions.
Dedicated to science education and public engagement, Science in Society unveiled the five winning images and eight honorable mentions on Monday, November 7 at Evanston Township High School. A panel of artists, scientists, and community members judged the submissions. 
An MRI image of blood flowing through a heart won the contest's first prize. "Blood Flow through the Heart" was submitted by Kelly Jarvis, a graduate student in Professor Michael Markl's laboratory. Markl's special imaging technique, called 4D flow MRI, captures the heart's blood flow at a single moment in time, allowing researchers to measure the flow's speed and patterns. The winning image shows a human heart from the front and back with blood (in red) flowing out to the rest of the body before returning (in blue) to be re-oxygenated by the lungs.
Other Northwestern Engineering winners include:
Second place: Adam Jakus, postdoctoral fellow in materials science and engineering, for "3D Printed Bone"
Third place: Austin Isner, graduate student in chemical and biological engineering, for "Angle of Repose"
Fourth place: Karna Gowda, graduate student in applied mathematics, for "A Slow March through the Desert"
Five place: Mark McClendon, research associate in materials science and engineering, for "Neural Cell Looking for Friends"
Honorable mention: James Hedrick, graduate student in chemical and biological engineering, for "Exposing the Colors Within"
Honorable mention: Emily Hoffman, graduate student in materials science and engineering, for "Split Woman"
Honorable mention: Christopher Serrano, graduate student in materials science and engineering, for "Magnetic Sunburst"
Honorable mention: Zaida Alvarez and Christopher Synatschke, postdoctoral fellows in the Simpson Querrey Institute for BioNanotechnology, for "Working Better Together"
Honorable mention: Michael Whittaker, graduate student in materials science and engineering, for "Nano Nebula"
Read more about each project and view the entire gallery here