Undergraduate
Students Crowdsource Funds for Coral Research
The experiment aims to find if coral skeleton architecture influences bleaching susceptibility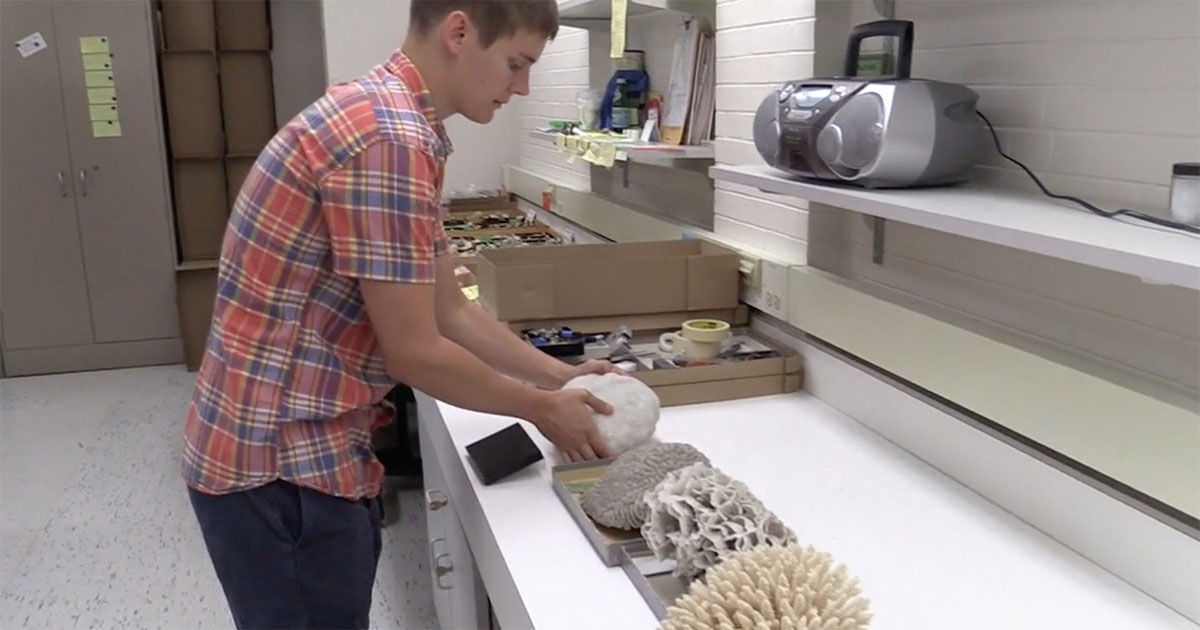 Corals' calcium carbonate skeletons are responsible for the marine invertebrates' unique and beautiful structures. Some look like brains or mushrooms, while others look like tall pillars or alien-like flowers.
Now a team of Northwestern Engineering undergraduate students plans to discover if these diverse skeleton architectures play a role in coral bleaching and subsequent death. To help fund this study, the students are using the new crowdsourcing platform Experiment, which is designed to help researchers fund scientific discoveries.
The team has until September 22 to hit its $5,000 goal. The Northwestern study is part of Experiment's Coral Reefs Challenge Grant, which includes 14 other coral-related projects. The experiment with the most backers after 30 days will win an additional $1,000.
"Research is typically hierarchical, with undergraduate students only getting to see a little bit of the project," said Luisa Marcelino, research assistant professor of civil and environmental engineering. "This is a great example of how they are getting more involved with designing the experiment and learning how to find funding and how to communicate their work."
Due to temperature spikes in the ocean, corals are now bleaching and dying at unprecedented rates. Researchers have noticed, however, that different types of coral tend to bleach at different rates. Much of Marcelino's work aims to understand what makes corals either more susceptible or more resistant to bleaching.
The undergraduates' Experiment project is based on earlier work from Marcelino and Northwestern Engineering's Vadim Backman, the Walter Dill Scott Professor of Biomedical Engineering. In 2013, the pair teamed up to take a spectroscopic technique that Backman developed to detect early cancer and apply it to coral skeletons. The technique allowed them to study coral skeletons' sub-microscopic architecture and explore how the skeletons reflect light back to their symbiotic algae.
Marcelino and Backman also developed the first quantitative "global index" detailing the most susceptible corals. In a companion study, they developed an algorithm to rank the thermotolerance of coral's symbiotic algae.
Under the supervision of Marcelino's research associate Timothy Swain, undergraduates Emily Bold and Phillip Osborn hope to identify corals' skeletal morphological characteristics at larger and larger scales — from sub-microscopic to the centimeter level — and learn how that architecture may or may not increase the risk of bleaching. Bold is a senior studying environmental science and biology in Northwestern's Weinberg College of Arts and Sciences. Osborn is a junior studying civil and environmental engineering in the McCormick School of Engineering. Both became aware of coral bleaching during separate diving trips and committed themselves to help solve the problem.
Efficient optical machines, corals are fed through photosynthesis generated by their symbiotic algae. Marcelino's students believe that coral skeletons can scatter light in a manner than increases the light available to the algae. With funding from Experiment, Swain, Bold, and Osborn will measure light scattering and morphology at different length scales in live corals to predict which corals will be at a higher risk of bleaching. Some of the Experiment funding will be used to collect live corals for the study.

"Identifying the effect of the coral skeleton architecture at different scales in bleaching susceptibility is a small but important step in understanding why corals bleach differently," Marcelino said. "And when the students take ownership of the entire project — from research design to communication to fundraising — everybody wins because the enthusiasm and quality of the world are vastly increased."