Events
ETOPiA Presents a Fall Film Festival
Featured movies are The Believers, Particle Fever, and Tim's Vermeer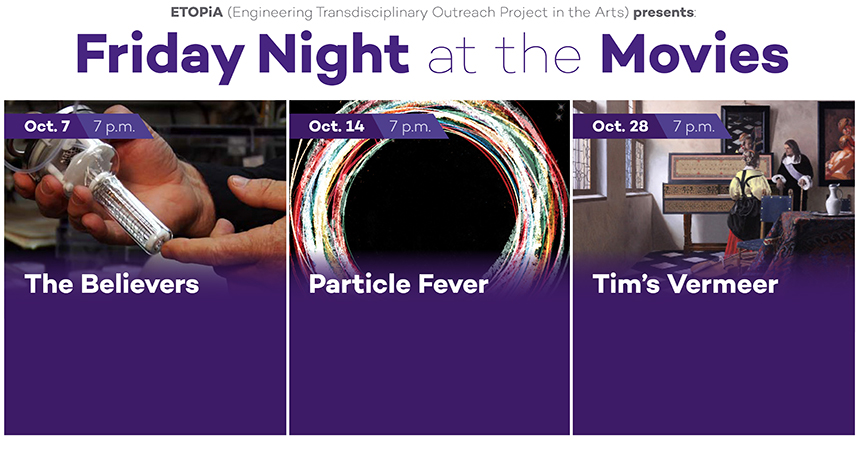 This year's ETOPiA event is moving away from the stage and toward the silver screen.
Three documentary films — The Believers, Particle Fever, and Tim's Vermeer — will mark the ninth season of ETOPiA: Engineering Transdisciplinary Project in the Arts, an outreach initiative that seeks to inspire cross-disciplinary dialogue about the roles of science and technology in society.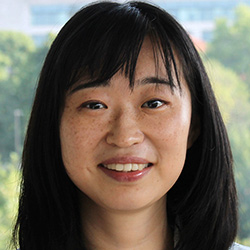 While the past eight seasons featured staged plays, ETOPiA will present "Friday Night at the Movies" as a new way to promote and inspire conversation. All films are free, open to the public, and will be screened in the Technological Institute's Ryan Auditorium. Advanced reservations are strongly recommended.
"We had great success with theater in the past," said Ermin Wei, assistant professor of electrical engineering. 
"But we hope that by periodically using new forms of arts, we will inspire new forms of dialogue," added Jing Dong, assistant professor of industrial engineering and management sciences.
Wei and Dong are co-producing this year's ETOPiA film series with the help of executive producer Matthew Grayson, associate professor of electrical engineering. Grayson founded ETOPiA in 2008.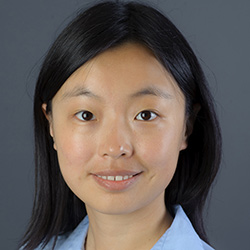 The Believers chronicles the controversial events surrounding two University of Utah chemists' attempts at cold fusion. It will be screened at 7 p.m. on Friday, October 7. Following the show, guests can join the film's co-directors Clayton Brown and Monica Ross — both Northwestern alumni — for a discussion.
Particle Fever follows the inside story of six brilliant scientists seeking to unravel the mysteries of the universe at CERN's Large Hadron Collider. The screening will take place at 7 p.m. on Friday, October 14. Northwestern physics professor André de Gouvea and Ian Low, associate professor in the Department of Physics and Astronomy, will participate in a discussion after the show.
Tim's Vermeer documents engineer and art enthusiast Tim Jenison as he seeks to understand the painting techniques used by Dutch master Johannes Vermeer. The movie will show at 7 p.m. on Friday, October 28. Following the show, a discussion will feature Aggelos Katsaggelos, Joseph Cummings Professor of Electrical Engineering and Computer Science, Marc Walton, senior scientist at NU-ACCESS, and Jorge Nocedal, David A. and Karen Richards Sachs Professor and chair of industrial engineering and management sciences.
Sponsored by the Barry and Mary Ann MacLean Fund for Art and Engineering and the James F. and Mary L. Gibbons Art and Technology Fund, the ETOPiA films are connected to this year's One Book One Northwestern selection, Nate Silver's The Signal and the Noise. Silver's book discusses how predictions of outcomes based on sound methodologies can affect everyone's lives — even those without a statistical background.
Reservations can be made online here or by calling 847-324-3294.