McCormick in the Media
Brenna Argall's Plans for an Autonomous Wheelchair Profiled in Crain's
Smart wheelchair can adapt its actions based off of instruction
Northwestern Engineering's Brenna Argall understands all too well a common paradox in the field of assistive rehabilitation: the more severe a person's motor impairment, the more difficulty they encounter operating assistive machines that hold the potential to improve their lives.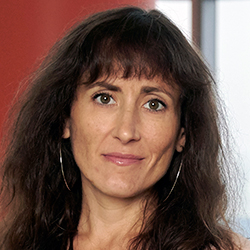 An assistant professor of electrical engineering and computer science, mechanical engineering, and of physical medicine and rehabilitation at the Rehabilitation Institute of Chicago, Argall believes she can address this patient-machine conflict with an autonomous wheelchair. Her plans were profiled in Crain's Chicago Business.
Argall, who heads Northwestern's Assistive and Rehabilitation Robotics lab, seeks to incorporate her expertise in robotics intelligence into assistive machines in order to advance human ability. Her wheelchair's autonomous system is designed to adapt its actions based off of the instructions it is given from the user. Over time, that direction will lead to more streamlined operation, faster reaction time, and less risk of collision, while still maintaining the user's sense of control.