Education
NUvention: Web + Media Students Present Web-based Startups
Final projects were presented Tuesday, June 7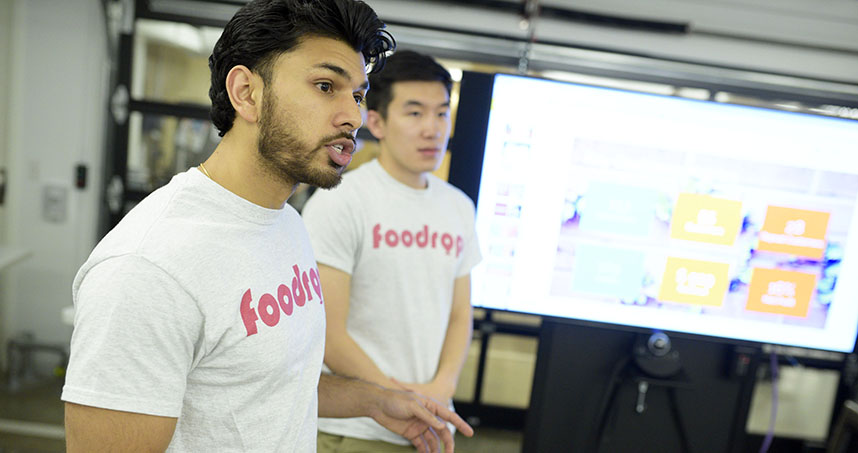 Food boredom is real.
And one interdisciplinary student team hopes to make it a thing of the past.
"For anyone who goes to school or work in the same building everyday, the nearby food gets boring," said Kunal Dalvi, an MBA student in the Kellogg School of Management. "It's the same food day after day, week after week."
Dalvi's team's solution, Foodrop, was one of the seven new, student-created, online businesses introduced at the final presentations of NUvention:Web + Media, a two-quarter course that requires students to collaborate across disciplines to design, plan, and launch web-based businesses. On Tuesday, June 7, members of the class "pitched" their final products to an audience of faculty, peers, guests, and members of the NUvention board of advisers.
Created by two MBA students and three engineers, Foodrop is a streamlined, online food delivery platform. While many people enjoy the variety of ordering food delivery, they are deterred by the expense and sometimes long wait times. Foodrop curtails these issues by partnering with restaurants to offer delivery without fees for bulk orders.
Here's how it works: each day, Foodrop features a different restaurant, which offers a limited menu of popular items. Foodrop subscribers place their orders by the 10:30 a.m. cutoff time, giving the restaurant time to plan and prepare the order. Then a restaurant employee drops off the entire delivery at a specific time at one central location to be picked up by various customers.
The Foodrop team said the model is particularly popular for restaurants just outside of the normal walkable range. The restaurants are willing to offer discounts and free delivery with the opportunity to expand their business. And customers are excited for newer options that are typically harder to reach. Foodrop's menu will rotate options on a weekly basis to include more variety from both national chains and local shops.
Foodrop launched a pilot at Kellogg with five Evanston restaurants and plans to launch the business campus wide in September.
"This could work in any dense location without many food options," said Andrew Yang, a senior studying computer science at Northwestern Engineering. "We hope to expand to include corporate offices that are outside of downtown and into hospitals."
Other projects presented at the event include:
#localsloveit: an online platform that connects small business with local influencers to help advertise products and services
Sweat: an app that connects college students with workout partners
Octopus: a bot that manages tasks within Slack, an intra-team communications tool
dibz: an online platform for individuals to buy and sell goods without the bureaucracy of Amazon or eBay
Kommunity: an online platform that helps campus clubs gather, organize, and share information
CoffeeChat: a human resources tool that helps employees develop career goals