Honors and Awards
Madhav Mani Named Simons Investigator
The award provides long-term funding for his work in mathematical modeling of living systems
The Simons Foundation has named Northwestern Engineering's Madhav Mani as a Simons Investigator in the Mathematical Modeling of Living Systems (MMLS) program. The prestigious award provides long-term financial support for young theoretical scientists in mathematics, physics, computer science, and MMLS.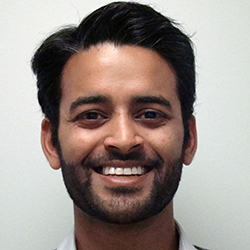 "It's encouraging to know that the Simons Foundation believes in the direction of my work," said Mani, June and Donald Brewer Junior Professor in the Department of Engineering Sciences and Applied Mathematics. "I'm honored that it wants to support me during my next years as an assistant professor."
The MMLS program aims to foster a culture of theory-experiment collaboration in the life sciences and help launch the research careers of outstanding junior scientists in the United States, Canada, and the United Kingdom.
A quantitative biologist, Mani uses mathematical models to describe and analyze the development of living organisms. He conducts his work in close collaboration with experimental labs that focus on developmental biology and biophysics. With funding from the Simons Foundation, he plans to hire two postdoctoral fellows who will both use mathematical quantification and run biological experiments in the laboratory. One will have a joint appointment with Richard Carthew, professor of molecular biosciences in the Weinberg College of Arts and Sciences. The second will have a joint appointment with Mani's collaborator at Harvard University.
Prior to joining Northwestern in 2014, Mani was a Simons Postdoctoral Fellow at the Kavli Institute of Theoretical Physics. He earned his PhD in applied mathematics from Harvard University and his master's and bachelor's degrees from Cambridge University. He became interested in the new field of quantitative biology in light of recent advances in imaging technologies.
"Imaging made me excited about the field because it allows you to see how the body develops," Mani said. "What's great about being a Simons Investigator is that I can work on anything I want. I want to work on a diverse range of projects, so having this freedom is incredibly important."