Events
James Rondinelli Joins Emerging Leaders at Roundtable in D.C.
Discussion features recipients of Presidential Early Career Award for Scientists and Engineers
Northwestern University Assistant Professor James Rondinelli was among the emerging leaders in science and engineering who talked about the impact of their work and the importance of federal funding for research during a recent roundtable discussion in Washington, D.C.
Each of the 11 scientists at the May 5 roundtable were recipients of the Presidential Early Career Award for Scientists and Engineers (PECASE) -- the highest honor bestowed by the U.S. government on science and engineering professionals in the early stages of their independent research careers.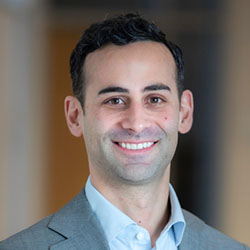 The 2016 PECASE recipients fielded questions from journalists, weighing in on a range of topics, from the burden of time spent in administrative reporting for federal grant funding to the need for more high-risk, high-reward research at the federal level and greater diversity in the scientific workforce. 
Rondinelli, assistant professor of materials science and engineering in the McCormick School of Engineering and Applied Science at Northwestern, was recognized for his influential research contributions in computational condensed matter physics and novel materials design approaches. His research team is converting mechanical energy into electrical energy.
"My group is looking at materials [that] could lead to low-power, more efficient electronics," he said.
"This impacts the average consumer in that they want to charge their device less [often]. In terms of the military -- and this is the support from the Department of Defense -- we're trying to give our soldiers tactical energy independence on the field."
Hosted by the Science Coalition, a nonprofit, nonpartisan organization of the nation's leading public and private research universities, the discussion took place at the National Press Club. Scientists from Johns Hopkins University, Columbia University and Boston University were among the fellow 2016 PECASE winners.
President Barack Obama and the heads of the United States' science agencies also recognized PECASE recipients for their achievements while they were in D.C.
Rondinelli also talked about administrative reporting challenges early-career faculty face in the lab, saying that reporting requirements consume roughly 30 percent of his research time.
"There must be a way to strike that balance between accountability and allowing investigators to really focus on the science," he said during the roundtable. "I think that's something that's incredibly difficult for junior faculty who are trying to both establish themselves in developing frontier science and receive this federal funding. "
Rondinelli also spoke about the growing competition U.S. institutions are facing from other countries in attracting and retaining good faculty, adding that he has been approached by Chinese laboratories to train their students.
"They're very interested in the electronic materials we're studying, and their approach is, 'You can come over for three months, we'll fund you, we'll set up a few graduate students for you and then you can go back and carry out your academic year at Northwestern and continue teaching,'" he said.
The event concluded with each participant describing why science should matter to this year's presidential candidates. Rondinelli said, "Science should matter to our presidential candidates because the greatest export for the U.S. is innovation and we train those innovative students."