Events
Hospital Data Analysis Wins MSiA Hackathon
Northwestern Engineering's MSiA program collaborated with Teradata Aster to host the third annual competition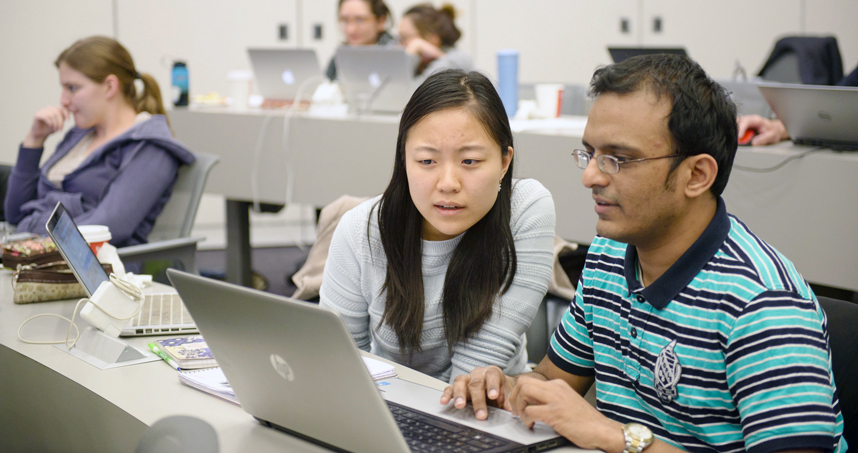 With nearly half of its expenses coming from managing inpatient care, US hospitals wrestle with a never-ending challenge: find new ways to lower costs while maintaining a high standard of care. Master of Science in Analytics (MSiA) graduate students Jamie Green and Kapil Bhatt believe a solution could lie in the data.  
Winners of the MSiA's third annual Hackathon on Thursday, May 5, Green and Bhatt sought to gain insights into the dilemma by using analytics software to study inpatient discharge data from Texas hospitals over a six-month period in 2007. The duo created a linear model that codified and analyzed variables like length of stay, reason for admittance, and patient demographics. 
The team determined that the patients' admitting diagnosis was the most accurate predictor of their length of stay. Patients grouped with "mental health-related illness" as an initial diagnosis required the longest hospital stay. Conversely, diagnoses categorized by "pregnancy and child-birth" reflected relatively short visits, likely due to the brief nature of ultrasound and check-up screenings.  
"To be able to predict length of stay based on patient data could help staff more accurately set schedules, order and maintain supplies, and prepare for new patients," said Green. "The cost savings from those changes could eventually be passed on to the consumer." 
Green and Bhatt's analysis was one of several found at the Hackathon, a collaboration between the MSiA program and leading big data analytics company Teradata. The competition tasked students to use the Teradata Aster Discovery Platform — an analytic engine developed to help companies solve complex business problems through data — to analyze a data set without restriction in hopes of uncovering unique insights. In addition to hospital data, student teams could select from NFL and MLB statistics, Amazon reviews, airline flight data, and State of the Union addresses. 
"Open source analytics solutions have a steep learning curve while commercial offerings like Teradata Aster are more user-friendly and equally powerful," said Diego Klabjan, professor of industrial engineering and management sciences and director of the MSiA program. "With limited training and just a few hours, students were able to come up with complete applications. It was impressive."
Led by Teradata's John Thuma, Teradata collaborates with MSiA each year to expose students to analytics tools and techniques for telling stories hidden within large data sets. A day before the Hackathon, the Teradata team provided training on the Aster software, as well as the company's new AppCenter platform, which offers an accessible, "self-service" interface to allow citizen data scientists to easily draw conclusions from the analytics. 
Following nearly eight hours of leveraging multi-genre analytics skills like pathing, statistics, and graph analytics, 20 student teams shared their discoveries with a panel of judges that included Teradata team members, previous Hackathon winners, and Szabolcs Paldy, vice president of digital marketing at Discover Financial Services. Teams were judged by their creativity, analytic approach, and final presentation.

Finishing in second place, Balamurali Natarajan and Mengshan Jin used flight data to create a predictive model to determine the likelihood of flight delays during the three days prior to and after Christmas. The team considered the day of travel, destination airports, and manufacturer of the plane in its analysis, but found that weather conditions were the most impactful predictor. They believe their model could help travelers predict holiday flight delays with 70% accuracy. 
The Hackathon's top two teams will be sponsored by Teradata to attend its Partners User Conference this September in Atlanta, Georgia.
"To learn and run the analytics, build a story, and present value from the data all in an afternoon exemplifies the ability of both the Aster toolset and the MSiA students," said Thuma. "These are motivated students that love analytics, and the Hackathon is a great opportunity to showcase what they've learned." 
Northwestern's MSiA program teaches students skills that drive business success in today's hyper-competitive, data-driven world. Students learn to identify patterns and trends, derive optimized recommendations evaluated through simulations, interpret and gain insight from vast quantities of structured and unstructured data, and communicate findings in practical useful terms that help drive business management.