Events
Panelists Discuss Building Business at Design:Chicago
Industry leaders visited Northwestern for the tenth annual event on April 6
For several years, TJ Scimone made his biannual trek to Guangzhou, China for the country's largest import and export fair. He visited each of the 60,000 vendor booths, hoping to find the next big product to bring back to the United States. His finds included miniature, collectible dinosaur toys, tins of mints, and colorful cotton candy that popped in his mouth before turning into gum.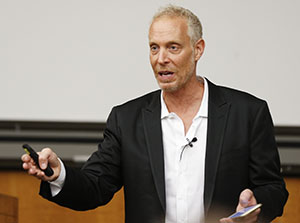 "It was a lot of crap," said Scimone, founder and CEO of Slice, a company that designs and engineers ceramic blades. "Some of it made a lot of money, but it wasn't rewarding."
Scimone shared his career mistakes and breakthroughs on Wednesday, April 6 at the tenth annual Design:Chicago seminar. Focusing on the theme of "Building Business with Design," the event brought together the Northwestern community, public, and top designers and executives. Other panelists included Paul Rowan, cofounder and vice president of inspiration at Umbra, and Martin Broen, vice president of global product design and design innovation at PepsiCo.
To break his unfulfilling cycle of searching for the "perfect" product in China, Scimone realized that he was following the "wrong recipe." Instead of selling valueless products that were designed and patented by other people, he turned to a product that he had developed years earlier: a simple box cutter with a safe ceramic blade.
"In order to enter a crowded market," he said, "we knew we had to innovate with design."
Scimone and his team reimagined everyday products, including scissors, tweezers, and his popular box cutter. Now more than half of Fortune 1000 companies uses his ceramic-blade box cutters as a safer alternative to metal blades. Not only did Scimone find his niche in selling business-to-business, but he found personal satisfaction. Inspired by his autistic son, Scimone donates one percent of Slice's profits to autism research.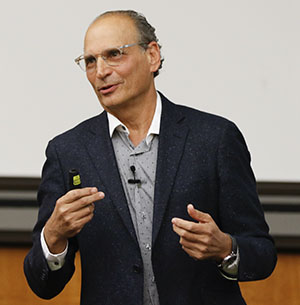 "Design is more than a product," Scimone said. "It's more than something you make. It's something that can affect someone's life. It's not about things; it's about people."
After 30 successful years in home décor, Rowan's company Umbra introduced Umbra Shift, an expansion of the company focused on contemporary influences in the design community. Rowan shared how Umbra used design thinking when planning, creating, launching, and advertising the new collection.
"We had a vision but didn't realize how important brand was," he said. "Products come and go, but brand is what makes us sustainable."
Rowan said his team developed Umbra Shift's brand by pinpointing its strengths and establishing a clear point of view. They created and rallied around a shared belief that extended to designers and vendors. The belief included key words (original, affordable, innovative, casual, and modern), which were repeated and discussed at every meeting.
"It's not an accident that you end up with great design," Rowan said. "It's a strategy, a plan, and it takes really hard work."
PepsiCo's Broen faced a different challenge. Instead of building his own company, he was tasked with converting a big, well-established company to design thinking. Instead of focusing on products, Broen's team reimagined the Pepsi experience.
"It's always about people; that is the key," Broen said. "It's not about selling products anymore. It's about selling experiences. People buy meaningful experiences."
Broen's team redesigned the common soda fountain to introduce Pepsi Spire, the first digital soda fountain that allows customers to personalize their drink by mixing flavors and adding flavor shots. Last month, comedian Jay Pharoah appeared on a Pepsi Spire digital touchscreen to surprise guests in Times Square.
"He interacted with the consumers in real time," Broen said. "That creates a really meaningful experience."
The seminar wrapped up with questions from the audience. Greg Holderfield, co-director of the Segal Design Institute, asked each presenter to give advice to students and aspiring designers in the room.
"Never blame your client," Broen said. "It's always your fault. Figure out why something went wrong and create a strategy to solve it."
"Break down silos between the business side and the design side," Rowan said.
"Don't ever give up no matter how bad it seems or how much you fail," Scimone said. "All of that is irrelevant."