Honors and Awards
Wessels Receives TMS Fellow Award
Award recognizes his seminal contributions to materials science
Northwestern Engineering's Bruce Wessels has received the prestigious 2016 fellow award from The Minerals, Metals, and Materials Society (TMS). It is the society's highest award.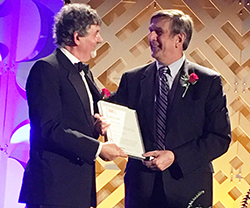 The award recognizes TMS members who have made outstanding contributions to the practice of metallurgy, materials science, and technology. Wessels was among just six members inducted into the TMS Class of Fellows at this year's annual meeting. 
"I am deeply appreciative of being named a fellow of the TMS by my colleagues," said Wessels, Walter P. Murphy Professor of Materials Science and Engineering. "I have been active in TMS for most of my professional life, and it has enabled me to partake in a number of activities, including programming and leadership."
Wessels was cited for his seminal contributions to vapor phase epitaxy of phosphide, nitride, and oxide thin-films and heterostructures for electronic and optoelectronic applications. TMS also recognized Wessels for his outstanding service to the society.
Wessels' laboratory develops thin films and nanostructures for electronic, magnetic, and photonic materials applications. Former president of TMS and its foundation, Wessels is also a fellow of the Optical Society of America, American Physical Society, and the American Society of Metals.