McCormick in the Media
The Wall Street Journal Highlights Design Thinking and Communication
Publication spotlights first-year engineering course, where students learn resiliency, build interpersonal skills
Read the story in The Wall Street Journal.
As freshmen, Northwestern Engineers have the unique opportunity to learn how trying to solve problems with no correct answers can lead to creative solutions.  
In the Segal Design Institute's Design Thinking and Communication (DTC) course, students team-up to take on design challenges submitted by real clients representing non-profit organizations, entrepreneurs, or members of industry. The Feb. 24th edition of The Wall Street Journal highlights how those projects lay the foundation for future success in engineering.
The Wall Street Journal showcases some of the most recent projects to emerge from DTC, which students tackled on behalf of patients at the Rehabilitation Institute of Chicago. One team sought to improve a patient's mobility by developing a more stable, shock-absorbent base to attach to the rear legs of a walker. Another team made it easier for a stroke survivor with limited use of her hands to crochet again by building an elevated wheelchair armrest to position the arms more effectively for crocheting.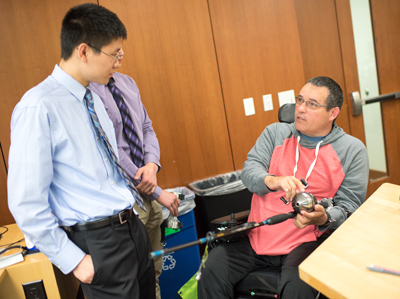 By working with clients directly, teams experience first-hand the challenge of empathizing with their client's unique needs, managing team dynamics, and in some cases, realizing the need to start over. In doing so, students learn valuable lessons in teamwork, resiliency, and creativity. 
"It's obviously not a good feeling when people say 'no, I really don't like this idea,'" said Robert Bell, a DTC student. "At the same time, I feel like our entire group is pretty good at overcoming those kinds of setbacks. ... We just moved forward with a different part of our plan."
Design Thinking and Communication is a two-quarter course required for all Northwestern engineering freshmen. The course was designed and is co-taught by faculty from the Bobbie and Stanton Cook Family Writing Program in the Weinberg College of Arts and Sciences. The class also teaches students writing and presentation skills, which play an important role when teams present their final solutions to clients and faculty at the conclusion of the academic quarter.