Undergraduate
Senior Magdalena Olewinska Named Co-op Student of the Year
After graduation, Olewinska will join the software team at Siemens
Computer engineering senior Magdalena Olewinska completed her co-op with Siemens Medical Solutions, Inc., where she worked on the embedded systems software team. Through her co-op, she worked with a diverse team of engineers on the motion control of molecular imaging cameras and contributed to multiple projects as well as community service at Siemens. Selected as Northwestern Engineering's 2016 Walter P. Murphy Cooperative Engineering Education Student of the Year, Olewinska recently sat down to chat with McCormick Career Development about her work, the importance of continuous learning, and her plans for the future.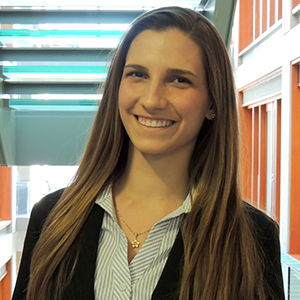 How do you feel your co-op experience has shaped you as an engineer and person?
The whole experience really instilled the importance of continuous learning. Every time I returned to work, I wanted to understand my work on a deeper, more technical level. If something interested me at work, I went back to school and tried to learn the fundamentals of that particular topic or concept. Continuous learning is something I will look for in the future because I want to continue developing myself as an engineer and as a person. 
Like all students in the co-op program, you moved back and forth between classes at Northwestern and your co-op job at Siemens. How did the alternating schedule of work and school affect you? 
Switching between work and school gave me the opportunity to understand things more thoroughly. It also provided an enriched college experience as the skills I acquired in both environments truly went hand-in-hand. It was exciting to immediately apply the concepts I learned from school to my work and vice versa. This alternating schedule produced new motivation every quarter to learn more, so that I could perform well the next rotation, whether it was school or work. 
Having experienced both, working and attending classes, is the workplace as forgiving as school? How does the environment differ?
In my experience, everyone at Siemens understood that I was a co-op and that I was still learning. I worked with a really experienced team, and they were patient to answer my many questions. They went out of their way to explain the deeper concepts underlying some of the aspects involved in our product. In the school environment, there is often more pressure because you only have one shot at making a good grade or performing well. 
In your nomination letter for Student of the Year, your supervisor mentioned that you were put on a team with very experienced engineers. He said you did extremely well with that and were able to earn their respect right away. Is there anything you want to say about that and how you were able to jump in and adapt quickly?
At first it was intimidating, but later I realized that everyone willing to help me. They were so knowledgeable, like books come to life. I made sure to ask them questions but never asked the same question twice. If I didn't understand something, I didn't just sit at my desk and wait for someone to check in with me or give me more work. I took the initiative to approach them or sent them a message to say, "When you have a chance, can I ask you about this?" or "I notice you are working on this project, can you talk to me a bit about that?" I recognized the great opportunity I had in working with this team, and I think they liked that I saw where they were coming from and that I was interested in their work.
In your Student of the Year personal statement, you mentioned that you gained extra experience by working on projects outside of your primary team. Can you tell me more about that and what it added to your experience?
As a co-op student, my supervisor wanted to make sure I wasn't narrow-minded in my work. He wanted me to open my eyes to see what else happening at Siemens and to see the different aspects that went into making the product we were working on. At first he proposed opportunities to work with other teams on tasks that would be mutually beneficial; however, during my later co-op terms, I approached him with ideas of how I could collaborate with other teams. It allowed me to be well rounded in my work and to understand why my team designed things in a certain way. They emphasized the importance of different teams working together and communicating to make the best product possible.
Would you recommend the co-op experience to younger students? What would you say to students who are on the fence about doing co-op?
I would definitely recommend the program. Acquiring work experience before graduation is a huge advantage, and working at the same company to see the same project through the whole development cycle is insightful. After you get past the initial learning curve of what it means to work in the industry and at that specific company, you are able to contribute your skills and integrate yourself with the company. You are finally able to understand how things work. 
In addition to the work experience, you can see what being an engineer is all about. I was interested in embedded systems, and my co-op solidified this interest. I have always wanted to work somewhere where I could make a tangible difference, and, just the other day, my Dad had an MRI and the imaging camera was a Siemens model from a product line similar to the one I worked on with my team.
What advice or warning would you give to your freshman self?
Don't be afraid to be curious and challenge yourself. When I first heard about engineering, I thought it was cool but I didn't know if I was fit to be an engineer, so I decided to major in something else. Then my freshman year, I saw people in my dorm working on engineering homework and I thought: Why am I not doing that? I started taking some classes, and that's when I had my 'a-ha' moment. I realized that I really wanted to use math to create tools for society, so I switched my major. If I had to give myself advice, it would be to be confident and start with engineering sooner.
What was the greatest thing, or most surprising thing that you learned about yourself throughout your time as a co-op?
Walking into my co-op, I thought I knew very little. I had just finished two years of college and wasn't sure how to make a valuable impact in my role. But Siemens saw potential in me, and I was surprised at how much I actually contributed. I have grown so much, not only at a technical level, but also as a person and as an engineer. The way I handle situations and communicate with people has improved, and I have discovered different ways of learning. 
Also, having to go to bed early for work was kind of shocking. At work, you have to be alert, so I definitely learned the importance of sleep.
What's next for you professionally?
I am in the BS/MS program and working on my MS in computer science. That was partially inspired by my co-op because I always wanted to gain related technical skills and understand more of the computer science side of things.  I just accepted a job offer, so after I graduate, I am excited to say that I will be returning to the embedded systems software team at Siemens.