Events
Design Expo Showcases Student Work
The event took place Dec. 4 and 5 in The Garage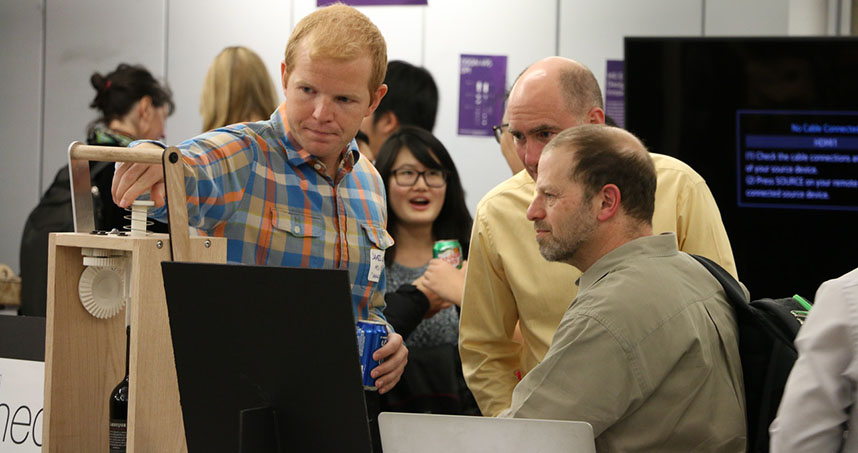 Activities as simple as inserting contact lenses or taking a drink of water generally require little thought. But for people with weakened hands and arms, these seemingly simple tasks can be a stressful struggle.
This weekend students in Northwestern Engineering's Design Thinking and Communication (DTC) course showcased their solutions to these problems and more. The presentations were a part of the Segal Design Institute's 2015 Fall Design Expo. Taking place Dec. 4 and 5, the event featured student work from a variety of programs including DTC, Design for America, and the Segal Design Certificate program.
The well-attended, annual expo buzzed with circulating students, faculty, and potential employers, who viewed displayed projects and portfolios, asked questions, and offered suggestions.
Several DTC teams presented tools to help patients at the Rehabilitation Institute of Chicago use contact lens more safely, easily, and comfortably. One group presented the "iExpandAid," a C-shaped, handheld device that aids users in opening their eyelids to insert a contact lens. After positioning the foam-tipped device near the eyelid, the user can push or lean onto it to enlarge the exposed eye's area.
"For most people, inserting or removing contact lenses is an easy routine," said Sean van Dril, a member of the iExpandAid team. "But for people with limited dexterity, it's a different story. It can be difficult to pinch the lens in order to pick it up or to pull the eyelid open."
Another client, Eden Supportive Living, charged student teams with designing a way for people using wheelchairs or walkers to stay dry in the rain. One team created the Dry Goose, a portable, easy-to-use, durable umbrella that attaches to the arm of a walker or wheelchair with flexible, plastic straps that also allow for easy removal.
"It took us awhile to find a solution," said Miranda Drakes, who worked on the Dry Goose. "We went through a lot of user testing and so many different designs. But we had to go through that to get to the best product."
A two-quarter course required for all first-year engineers, DTC puts students to work on real design problems submitted by outside clients. Other DTC projects included designing tools to help clients with limited mobility wash dishes, crochet, drink beverages, build muscle, maintain posture, and more.
Before the DTC project showcase on Saturday, dozens of seniors and graduate design students attended the portfolio and project fair on Friday. For students who don't yet have plans for after graduation, the event provided an opportunity to meet with representatives from top Chicago-area companies, including 3M, IA Collaborative, and Accenture.