Events
NUvention: Web + Media Students Showcase Web-Based Startups
BabyNinja, BarLift among the eight projects presented before NUvention's board of advisors
Raising a newborn is no easy task. For first-time parents, the experience can be particularly stressful as they adapt to a new schedule that features intermittent naps, diaper changes, and late-night feedings.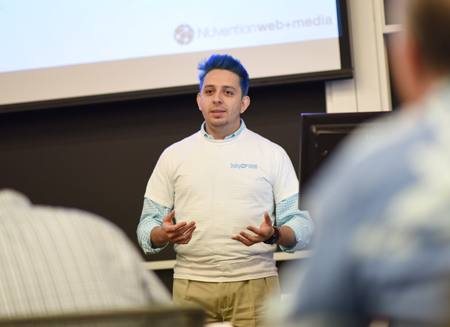 Fortunately, a Northwestern University student team is helping new parents acclimate to life with a newborn through BabyNinja, a mobile app that offers insights about their baby's behaviors and activities. The platform, currently in a beta launch, logs common baby tracking data, such as eating schedules and the duration of sleep. The information can also be collected as easy-to-read reports that can be presented to pediatricians during check-ups. 
"There are other baby tracking products in the market, but paper journals only offer basic metrics and current apps aren't intuitive for users," said BabyNinja's Francisco Gonzalez, a student in McCormick's Master of Engineering Management (MEM) program. "BabyNinja was developed with parents' needs in mind. It has a user-friendly design interface that prioritizes the essential tracking needs for a newborn and adjusts as the baby grows."
BabyNinja was one of the eight new, student-created, online businesses introduced at the final presentations of NUvention: Web + Media, a two-quarter course offered by the Farley Center for Entrepreneurship and Innovation that requires students to collaborate across disciplines to design, plan, and launch web-based businesses. On Tuesday, June 9, members of the class "pitched" their final products to an audience of faculty, peers, guests, and members of the NUvention board of advisors.
Another NUvention: Web + Media app, called BarLift, provides users with information on drink specials from local bars while also offering bar owners an analytics platform to develop marketing campaigns that will increase traffic and revenue.
"Thirty percent of bar owners fail in the first year, and 60 percent fail in the first three years," said Zak Allen, a member of BarLift and a senior studying computer science. "One of the reasons for this is that many bar owners just aren't marketing savvy."
BarLift maintains 600 active weekly users since launching the app last winter and counts 16 Evanston bars as customers of their analytics service, with an additional 28 establishments in the pipeline. The startup is in the midst of expanding their presence to DePaul University's Lincoln Park campus and believes their app could eventually be adopted in cities across the country. 
Other projects showcased at the event include:
Breadcrumbs: an online shopping companion that fights against the annoyance of navigating multiple browsing tabs
Helm: a smartphone app to help parents ensure their children arrive to their destination safely
Ketch: an app that helps college students meet up spontaneously
Supportroo: a task management tool that organizes your daily needs and engages your inner circle when caring for yourself or a loved one
Tellascope: a social news discovery service for the intellectually curious
Thimble: a platform to help budding independent fashion designers launch their careers
NUvention is a suite of interdisciplinary courses offered through the Farley Center that exposes students to the entire innovation and entrepreneurial life cycle and helps them understand how innovations can become viable businesses. In addition to NUvention: Web + Media, specialized course tracks include energy, analytics, and medical innovation. The program has spurred the development of multiple startup companies that have transitioned from the classroom to the corporate world.