Undergraduate
Northwestern Students Hack Data for Social Good
The inaugural course comprised 58 students, 33 different majors from across Northwestern's six undergraduate schools.
A new undergraduate course at McCormick is proving that analytics are not just for engineers.
Offered by the Department of Industrial Engineering and Management Sciences for the first time this spring, the Analytics for Social Good course explored the challenges and opportunities of achieving social good in the age of big data. 
In the class, students tackled topics ranging from using advanced technology for disaster response and preparedness to developing decision-making frameworks for community-based health care providers. In addition, the class hosted guest speakers from local and national organizations, who presented case studies that students worked on in interdisciplinary teams.

Taught by Karen Smilowitz, associate professor of industrial engineering and management sciences, the inaugural class of 58 students represented 33 different majors from all six undergraduate schools at Northwestern University. Smilowitz met with McCormick Dean Julio M. Ottino more than a year ago to discuss the possibility of offering an engineering course open to students from across the University. The resulting class, open to juniors and seniors, offered students a new way to look at nonprofit data problems. 
"Dean Ottino had a vision to bring engineering thinking across Northwestern," Smilowitz said. "In addition, I think this class has also brought Northwestern thinking into McCormick."
Bringing together different perspectives
From the beginning, students brought different perspectives to coming engineering problems. For example, equity becomes an important factor when determining resource allocation during emergency situations. But the concept holds a different meaning depending on one's academic discipline.
"From an engineering perspective, if there's uncertainty about the quantity of a resource, a simple way to be equitable is to give everyone nothing," Smilowitz said. "But that is not a meaningful solution, so how do you take difficult decisions and put them into a model? It was interesting to see how students with different backgrounds approached the problem."
"As an IEMS major, I tend to focus on the quantitative," said senior Derek Tucker. "Working with students from across Northwestern though has taught me how to take a step back and consider the aspects of a problem that I can't put a number to. The class has been a great opportunity to collaborate by bringing our own skills to the table to build something creative."
Hacking data for social good
In culmination of the course, students participated in the two-day IEMS 365: Analytics for Social Good Hackathon 2015, where they tackled data from the American Red Cross. 
Jim McGowan, director of planning and situational awareness at the Chicago and Northern Illinois Region and North Central Division of the American Red Cross, told students that the hackathon is an opportunity for them to craft their own "stories" with the data.   
"You will see relationships develop as you begin to analyze our data sets, which will influence how you create your projects," he said during an in-class introduction on June 2. "Ultimately, your area of focus is up to you."  
McGowan said that before his region's operations migrated to an open-source database in early 2014, the organization tracked its annual 2,500 incident reports through individual Microsoft Word documents. Though the current system has served as a marked improvement, the organization still faces the challenge of managing two large data sets: response-related data, such as the date and location of incidents, and disaster preparedness data, which includes metrics related to public outreach programs. 
"We deliberately had the Red Cross present an open-ended problem by simply asking, 'How are we doing?'" Smilowitz said. "There are so many different ways to approach that question. We gave the students a lot of data — some of it structured, some of it messy and incomplete. We wanted them to reflect on what they learned and practiced in the class to help shape their projects."
Culling messages, prioritizing service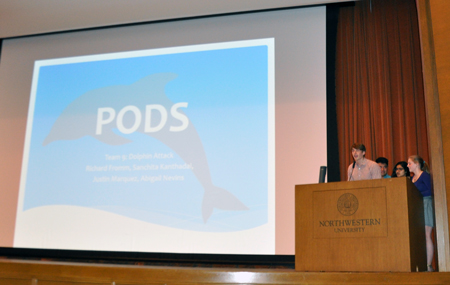 After nearly 48 hours of idea pitching, data analysis, and project development, the 12 teams of students made their final presentations on June 4 in the Ryan Family Auditorium. The projects sought to improve on a variety of operations within the Red Cross, from a new volunteer scheduling interface to a system that uses data to predict the density of fires in Chicago.
The hackathon's winning team, Sprout, developed an algorithm capable of culling the Red Cross's multiple incoming incident platforms into a single message stream so dispatch volunteers could more easily filter and respond to events.
Another team, Team Pie HFPL Mobile App, created a prototype app to benefit the Red Cross's Home Fire Preparedness Campaign, which distributes free smoke alarms. The app not only uses data to prioritize the city zip codes that could benefit most from the program, but also digitizes the collection information, which was previously completed through paper forms.
Smilowitz said she plans to offer Analytics for Social Good again next year, and credits her inaugural class for its success. 
"These students have been willing to take on this challenge. They have been excited to learn and have demonstrated the patience needed during a first-year class," she said. "It has been an amazing group of students."