Undergraduate
Materials Science Undergraduate Leanne Friedrich Wins Gotaas Award
Winning paper explains the unique materials in mollusk eyes
For the past 400 million years, chitons have been scooting along the seabed. The small mollusks spend their days grazing for algae and bacteria, and their nights hiding under rocks. Materials science undergraduate Leanne Friedrich admits that chitons don't seem exciting but says they actually have a lot to offer the research world.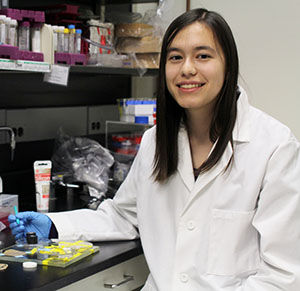 "They're really slow-moving, snail-like creatures that spend their time scraping food off rocks," Friedrich said. "But we can learn a lot from them in terms of the clever ways they use minerals."
Friedrich spent her junior and senior years studying the unique biominerals found in chitons' eyes, which have the only lenses in the animal kingdom composed of aragonite. Her work in this area, titled "Seeing through the Eyes of a Chiton: Lessons from the Crystalline Lens," received the 2015 Harold B. Gotaas Undergraduate Research Award from the McCormick School of Engineering and Applied Science.
The prestigious award, named in honor of McCormick's third dean, is given annually to the senior who presents the best research paper in the competition as judged by a panel of faculty members. Friedrich conducted her work in the laboratory of Derk Joester, an associate professor of materials science and engineering.
Friedrich received the award last week before 100 other McCormick seniors during the annual "Senior Send-off" event in the lobby of the Ford Motor Company Engineering Design Center. After graduation, she will head to the University of California at Santa Barbara to pursue a PhD in materials science.
Friedrich's winning paper explained the biological structure of the lenses in the chiton's eye, an area that has been largely unstudied by materials scientists. She posits that insight into the eye's processing, structure, properties, and performance could open new doors for designing bio-inspired materials.
"It's usually difficult to convince engineers that studying weird mollusk eyes has direct engineering applications," Friedrich said. "This award is exciting because it means that McCormick sees that this research is both interesting and useful."