Undergraduate
First-Year Students Develop Adaptive Fishing Tool, Interactive Toy
Students in the Design Thinking and Communication course presented their final projects this week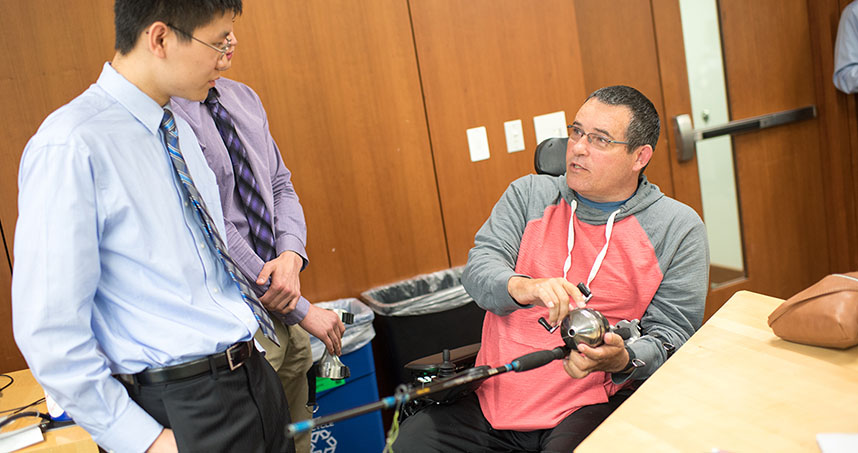 Up until a year ago, Mike Thompson was a regular face in the professional fishing circuit. An expert fisherman, he joined Fishing League Worldwide and competed in the Walmart Bass Fishing League nearly every year for a decade. But after a spinal cord injury took away the ability to move his hands, Thompson realized that his fishing future would have to look very different.
Thompson's accident left him with C6 quadriplegia. While he's able to move his head, neck, shoulders, elbows, and wrists, the majority of his body, including his legs and hands, is paralyzed. Determined to continue fishing, Thompson traded in his speedboat for a more wheelchair-friendly pontoon and tested some of the automated fishing rods on the market. But pushing a button that activates a motor to cast and reel didn't feel like fishing at all.
"Mike missed the interactive and immersive experience," said Colton Colwell, a Northwestern engineering freshman. "He wants to feel the fight of the fish."
This winter and spring, Colwell participated in McCormick's Design Thinking and Communication (DTC) course, which challenged his and another student team to develop a better solution for Thompson. A two-quarter course required for all Northwestern engineering freshmen, DTC puts students to work on real design problems submitted by individuals, non-profit organizations, entrepreneurs, and industry members. Co-taught by faculty from the Weinberg College of Arts and Sciences Bobbie and Stanton Cook Family Writing Program, the course also teaches students writing and presentation skills. Student teams presented their final solutions to their clients, peers, and instructors on Tuesday and Wednesday in the Ford Motor Company Engineering Design Center.
Bracing the Rod for "Anything Nature Throws at It"
Brenda Canning, an occupational therapist at the Rehabilitation Institute of Chicago (RIC), reached out to the DTC course to develop a new fishing solution for Thompson. Canning, Thompson, his wife, and daily caregiver attended the presentations, eager to see the final products.
Undergraduate engineers Colwell, Mathew Li, Alex Snarski, and Blake Strebel presented the "Bass Grabber," a stable rod attachment that keeps fishing interactive. To employ the Bass Grabber, the user wears a lightweight aluminum brace on each forearm. The braces are contoured to fit the natural curvature of the arm and are padded with thick foam, so the user feels comfortable even after a long day on the boat. The rod attaches to the braces with an interlocking tab and slot mechanism that easily unlocks to switch seamlessly between arms.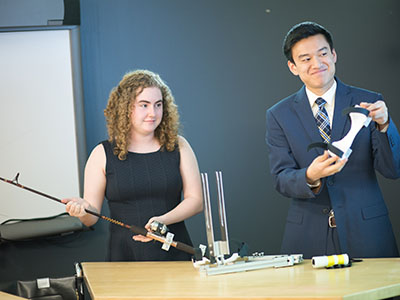 An ergonomic, oak reeling handle — about the same size and shape as a computer mouse — straps onto the user's hand with Velcro. The handle has a tube that fits over the reel, so the user can dial in the fishing line without needing dexterity. The Bass Grabber can accommodate different types and sizes of rods, so Thompson can use it for a variety of rods in his collection.
"It's waterproof and durable, so it can stand up to anything nature throws at it," Snarski said. "We want to get Mike back on the water doing what he loves."
In a second presentation, another student team introduced the "Yellowfin," a prototype that meets similar requirements as the Bass Grabber. The Yellowfin also included an adjustable rod holder, designed to slide into the armrest slot in Thompson's wheelchair. Undergraduates Kate Hartman, Gregory Leung, Allen Tang, and Frank Wang are members of the team.
After the presentations, Thompson asked to try both adaptive fishing devices to practice his casting. His friends and family watched him with delight.
"I don't even have any questions," Thompson told the student teams. "I'm just ready to get out and try it."
Creating the Right Challenge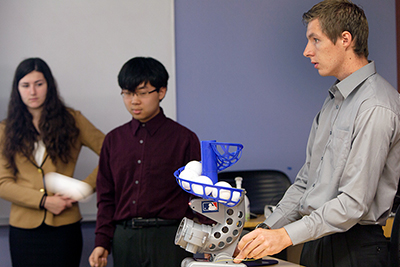 Another DTC team was tasked with helping a young boy communicate with the world. RIC occupational therapist Edward Hitchcock wants to teach a four-year-old boy with cerebral palsy and associated quadriplegia to press a switch with his head. Mastering this task, Hitchcock said, would help develop his motor skills and eventually help him communicate and interact with the outside world. His current switch-activated toys have not engaged him enough to motivate him to press the button.
"There's not a lot of money in the switch-activated toy market, so there's not a lot of innovation there," said Margaret Grasse, a member of the team.
Undergraduate engineers Grasse, Brandon Tanner, Nikko Quiballo, and Luolei Zhao aimed to design a toy that provides both visual and auditory stimulation. It also wanted to incorporate the Chicago Cubs, the boy's favorite sports team. The students presented the "Whistle Ball Launcher," a machine that — when the button is pushed — hurls a lightweight, soft plastic ball at a net across the room. Strings of beads hang from the net, rattling when the ball makes contact. Both the launcher and the net's frame are decorated with the Cubs' colors and logos. The system is also collapsible, so it can be transported to and from home and sessions at the RIC.
Although the boy and his family could not attend the presentations, they will have the opportunity to test the Whistle Ball Launcher this summer. Then the team will continue to refine their product, with plans to add new types of "ammunition" and implement more sounds.
Other teams worked with Northwestern clients. Two teams presented ways to transform Professor Keith Tyo's basement laboratory into a brighter, more productive environment. Another team found ways to organize the workflow process in lecture Michael Beltran's Rapid Prototyping Lab. The presentations excited both clients.
"I'm thoroughly impressed," said Beltran. "There's a lot of 'wow' going on inside my head."