Events
Conference Brings Together Haptics Researchers from Around the Globe
The World Haptics Conference featured workshops, presentations, and hands-on demonstrations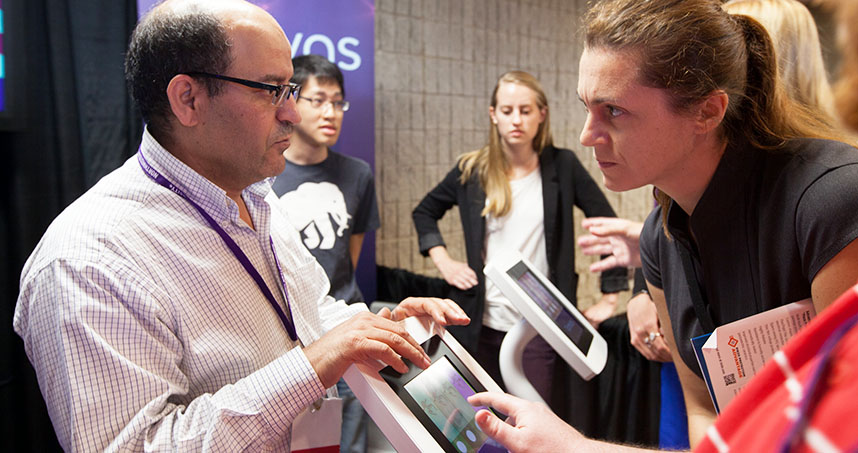 If this week's World Haptics Conference is any indication, more researchers are getting in touch with touch.
From June 22 to June 26, 450 researchers and students from academia and industry — the largest number in the conference's 10-year history — crowded into Northwestern's Norris University Center for a week of workshops, presentations, and hands-on demonstrations. All projects revolved around haptics, a tactile feedback technology that allows users to interact with the digital world through touch. Half of the attendees were from outside of the United States, traveling from countries such as Canada, Japan, Korea, Germany, Spain, and Italy.
"It's inspiring to see so many people who are excited about haptics in the same building together," said J. Edward Colgate, professor of mechanical engineering and the conference's general chair. "The increase in interest for this year's conference shows that the field is really growing."
"We're finally seeing some good haptics hit the consumer market in laptops and wearables," said Michael Peshkin, professor of mechanical engineering and haptics expert. "There were so many enthusiastic and creative students at the conference, they clearly find it a cutting-edge field."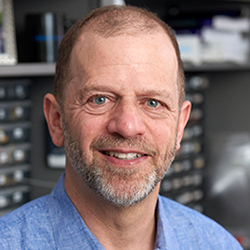 One of the most popular tables during the hands-on demonstrations was that of Tanvas, a company founded by Colgate and Peshkin. Tanvas, formerly known as Tangible Haptics, is developing a surface technology that allows users to feel what they see on their touchscreens. Attendees lined up to try the device and marveled at the ability to feel bumps and friction on a flat glass screen.
Tanvas is already having a good year. The company recently received a $5 million investment from Chicago venture fund R7 Partners, trading firm Peak6, and Northwestern.
"This round of funding allows Tanvas to move from working on key engineering discoveries and building our patent portfolio," Peshkin said. "Now we are able to hire more people, move toward products, and build relationships with consumer electronics companies."
Many of the demonstrations at the conference were so fun to interact with that they felt like games. But haptics technology has a purpose well beyond entertainment. Several exhibitors used haptics for artistic, scientific, and medical purposes.
For example, tech company Moog displayed its Dental Trainer, which helps prepare new dentists for the real world. Students use a simulated dental drill and hand mirror while watching a screen that shows the instruments working on virtual teeth. Haptics provides the vibrating sensation of a real drill, the force of pressing against the tooth, and the friction of getting stuck in dentin. The company has already sold 400 units to dental schools and next plans to develop similar technology for ophthalmology.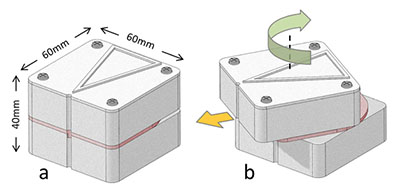 A group from Yale University presented a cube-like navigation device called the Animotus. Referred to as "unobtrusive haptic guidance," the handheld Animotus changes its shape to give directions to the user. For example, it swivels to the right when the user is supposed to turn right and pushes forward when the user should walk straight ahead. 
In March, the team used the 3-D printed device to create a large-scale, immersive theatre production in London. Called Flatland, the production implemented the device to guide audience members through a pitch-black space. Using the Animotus, participants felt their ways to the end with the help of large tactile structures and audio narration. Creator Adam Spiers said his previous work with visually impaired individuals inspired the navigation device.
"By exploring the tactile structures and following the device, the play's plot unfolds," said Spiers, a postdoctoral associate at Yale. "It allows both visually impaired and sighted individuals to share the same experience, which is rare in daily life."