Events
'Big Data' Leaders Champion User-Generated Content During 2015 Analytics Exchange
Speakers from IBM, Orbitz discuss how analytics impact customer experience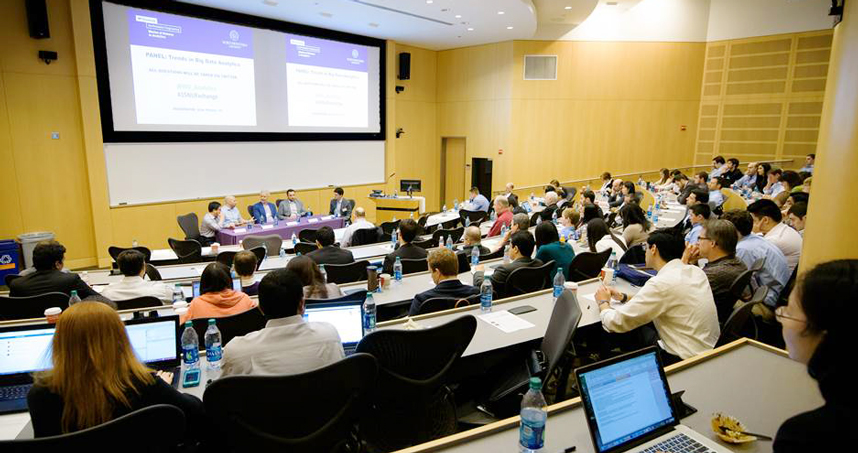 When Dan Mallinger thinks of user-generated content, he's not concerned about social sentiment on Twitter or status updates on Facebook. As data science practice manager at Think Big Analytics, he argues that while social media posts may offer general insight into an audience's view of a company or product, the information provides little value to analytics professionals.
"User-generated data is more than messages. It is all of the content and data we create by interacting with technology," he said.
Mallinger was one of the industry leaders who spoke on the theme of "User-Generated Content & Big Data Analytics" as part of the 2015 Analytics Exchange on Monday, May 18. The third annual event, hosted by McCormick's Master of Science in Analytics (MSiA) program, welcomed MSiA students, alumni, and the program's industry collaborators to the Baldwin Auditorium on Northwestern's Chicago campus to meet with practitioners from across the analytics spectrum.
"Events like today help us gain insight into industry demands and needs, which helps prepare our students as they enter internships, and eventually, the workforce," said Diego Klabjan, director of the MSiA program and professor of industrial engineering and management sciences, during his opening remarks.
For presenter Alyssa Simpson, senior product manager of customer analytics for mobile at IBM, user-generated content informs and drives efforts to use big data to improve online customer experience. 
"Many brands today think the customer's experience is better than what the customers actually think," Simpson said. "As a data scientist, it's important to serve as a champion for the user and work to bridge that gap. People have been recording page views and click-throughs for a long time, but customer experience is a new and important issue in analytics."
Simpson currently leads mobile product development on IBM TeaLeaf, a customer experience management software platform companies use to analyze user interactions on their websites and mobile apps. The program provides data that allows an organization to proactively address areas of the customer experience it can control, and provides insight into areas that it can't.
"Your team has control over certain aspects of performance data—server performance, load time, battery state—but you can't control the user's environment," Simpson said. "Someone can be traveling underground and have a poor connection, but you can design content to provide for a user in that situation. Customer experience data helps you anticipate those circumstances."
Long Hei, senior manager of advanced analytics at Orbitz, echoed Simpson's remarks when he discussed the importance of leveraging user-generated data to optimize online advertising. He said successful companies have been able to use data to tailor online advertisements and website interfaces to make each customer shopping experience unique. It's why one's past searches and tailored recommendations intuitively appear after logging onto e-commerce websites like Amazon.
"A properly personalized experience, where the right content is delivered to the right person, makes customers more likely to buy more, leave your site satisfied, and maintain the loyalty to come back again, while your company will enjoy greater market share," Hei said. "It's a win-win." 
In addition to individual presentations, speakers fielded questions from the audience as part of a panel discussion. Among the questions posed: what changes in the analytics industry could current MSiA students expect to experience over the next five years? 
Matt Miller, senior vice president of analytics and technology at Performics, answered that the industry will increasingly focus on people.
"Organizations are regularly using terms like 'data-driven decisions' and 'big data,' and are starting to make strategic investments to nurture talent and build an infrastructure in the analytics space," Miller said. "The people in this room today will experience those investments first hand to help you develop as future leaders in analytics."
The Analytics Exchange also offered current MSiA students the opportunity to present their practicum projects. The nine-month projects partnered student teams with clients across industry to solve data-related problems on their behalf. Students garnered practical experience by analyzing data and developing algorithms and business models that could be implemented by the organization. Industry clients for this year's practicum projects included Hilton Hotels & Resorts, Motorola, and McDonald's.