Events
Analysis of State of the Union Addresses Wins Hackathon
The daylong competition was a collaboration between McCormick's MSiA program and Teradata Aster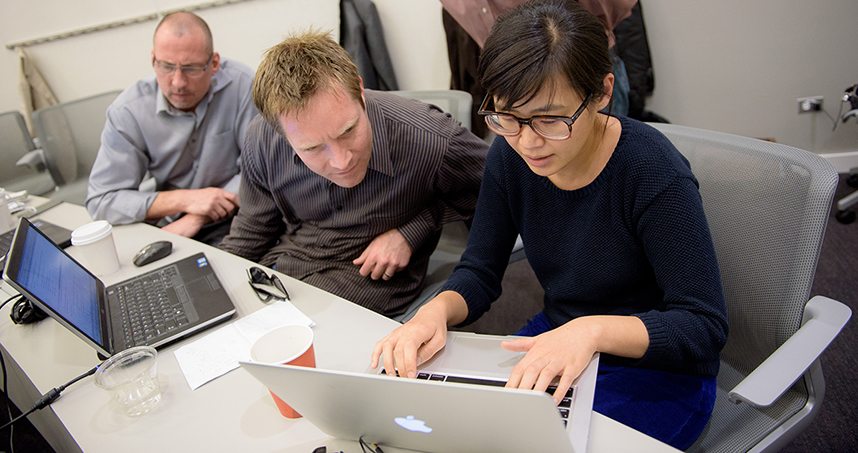 Is a more positive US president also a more popular one? The student team that won McCormick's Master of Science in Analytics (MSiA) program's Hackathon thinks so.
During its second annual Hackathon on Wednesday, April 29, MSiA graduate students Zach Anglin and Shawn Li combed through every State of the Union Address since 1790. The team used software to label the sentiment of each sentence as either positive or negative and looked at ratios between these two labels. They found that, throughout history, State of the Union addresses were typically positive. Just how positive they were did not seem to affect outside factors, such as the economy or international conflicts, but it did affect the president's approval rating, the team found.
That insight was one of several found at the Hackathon, a collaboration between the MSiA program and leading big data analytics company Teradata. The daylong competition challenged students to apply the Teradata Aster Discovery Platform, an analytic engine designed for big data sets to solve complex problems. Students chose from eight publicly accessible data sets: NFL or MLB statistics, Amazon reviews, State of the Union addresses, airline flight data, and US consumer bank complaints. How they analyzed sets, or what insights to search them for, was up to them.
"It's beneficial for our students to receive a data set without having a clear question to solve," said Diego Klabjan, professor of industrial engineering and management sciences and director of the MSiA program. "So then they have to be creative about finding the problem and look for a strategy to solve it."
Led by Lee Paries, Teradata's area vice president, Teradata partners with MSiA each year to expose students to analytics tools and techniques for telling stories hidden within large data sets. Paries — along with Teradata's Russ Ratshin, John Thuma, and Mary Gros — helped organize the competition. A day prior to the Hackathon, members of the Teradata Aster team visited Northwestern to train the MSiA students on their software. After three hours of training, students were able to fully grasp and apply the technology. During the Hackathon event, Teradata team members circulated the room to help participants successfully navigate their projects.
At the end of the day, 18 student teams presented their findings to a panel of judges and their peers. Judges evaluated students based on their abilities to think creatively about data in a limited amount of time. The first and second place teams will be sponsored by Teradata Aster to attend its Partners User Conference in Anaheim, California.
Anglin and Li impressed the judges by not just hacking the State of the Union data alone. They also compared it to approval ratings from Gallup polls taken directly before and after the addresses. Among their findings, the team found that Republicans give even more positive addresses when the economy is poor as opposed to Democrats, who tend to be more understated during tough times. These sentiments boost Republicans' ratings and hurt Democrats' approvals.
Paul Jennings and Ye Tu made up the second place team, which analyzed Amazon reviews to identify Internet bots. They said the dishonest reviews created by bots can hurt brands by breaking their customers' trust. In the end, they only found 124 bots, which lead to the assumption that Amazon already aggressively hunts them.
Northwestern's MSiA program teaches students skills that drive business success in today's hyper-competitive, data-driven world. Students learn to identify patterns and trends, derive optimized recommendations evaluated through simulations, interpret and gain insight from vast quantities of structured and unstructured data, and communicate findings in practical useful terms that help drive business management.
"Analytics is one of the hottest topics in the business world," said Oliver Ratzesberger, senior vice president of software at Teradata. "Many companies are in an analytics arms race. There is a constant battle to optimize and innovate how we deal with large sets of data."