Events
Alok Choudhary Demonstrates Engineering's Impact on Marketing at Farley Fellows Seminar
4C founder champions analytics as a method to reach and influence consumers
On an episode of Larry King Live, the actor Ashton Kutcher discussed reaching around 5 million followers on Twitter and the influence he believed the staggering number of fans afforded him. 
But when Alok Choudhary watched the episode, he wondered: What makes a popular actor, or any one person, company, or brand, influential? His subsequent research in the area of influence edification in social media would eventually pave the way to founding his data science company 4C, which is now changing how marketers advertise to consumers.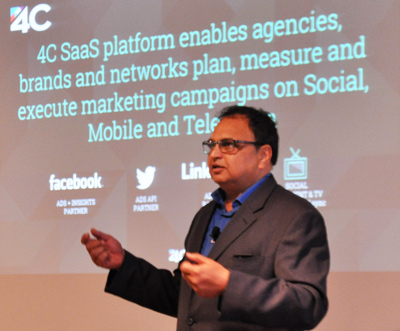 Choudhary, Henry and Isabelle Dever Professor of Electrical Engineering and Computer Science at the McCormick School of Engineering, discussed how his startup achieved prominence as part of the Farley Fellows Seminar Series, where entrepreneurship-minded Northwestern faculty speak about their efforts to create companies. The talk took place May 14 in the ITW classroom of the Ford Motor Company Engineering Design Center.
"When you start a company, you will have certain ideas in mind that you want to execute," Choudhary said. "Based on market forces and other factors though, you will have to pivot."
Choudhary's pivot occurred when he realized that advertising was undergoing a convergence. Instead of following his original plan to build an analytics company based solely around social media listening, he saw the need to help organizations navigate the increasingly intertwined nature of social, mobile, and television advertising to better influence consumers. 
"Convergence and integration requires comprehensive data and cutting-edge data science," Choudhary said. "So the question for advertisers became, how can you use that data to synchronize communication to amplify messaging?"
For Choudhary, the answer was 4C: a self-service software platform that allows agencies, brands, and publishers (like television networks) to more effectively plan, measure, and execute advertising campaigns. 4C's algorithm tracks trillions of data points that reflect the behaviors of 1.5 billion consumers worldwide, including users within social networks like Facebook, Twitter, and LinkedIn.
"Our Affinity metrics serve as our currency that tells companies how strong of a connection particular audiences have to their brand," Choudhary said. "Companies can then determine what motivates their customers, and why they do what they do. If you understand that, you can shape your advertising to strengthen that connection." He added such insights have helped companies achieve more optimized advertising campaigns and identify worthwhile sponsorships and partnerships.
4C counts among its customers some of the world's largest advertising agencies, as well as 400 of the Fortune 1000 companies, including Procter & Gamble, Coca-Cola, and Samsung. Choudhary believes companies are drawn to 4C's ability to translate complex analytics into actionable insights that can reach and influence consumers.  
"Think of your target audience as sitting in a big house. Everyone in the broader marketing world is still trying to reach them by entering through the front door, the most obvious entrance," Choudhary said. "4C identifies a window."

Following his talk, Choudhary was asked if he identified himself more as an entrepreneur or an academic. He quickly noted the similarities.
"Managing a steady business is learning to minimize risk, but starting your own business involves a lot of risk," Choudhary said. "In academics, you don't just write and submit a paper. You have to build your research and prove its worth so it can be published. In many ways, entrepreneurship is the same thing."