Honors and Awards
Northwestern Startups Win Prizes at 2015 Clean Energy Challenge
AMPY and NuMat Technologies win Emerging Growth Awards
Standing in front of a sold out crowd at this year's Clean Energy Challenge, Northwestern startup companies AMPY and NuMat Technologies received the latest in a growing collection of big checks. The companies both won an Emerging Growth Award, recognizing promising Illinois-based companies with demonstrated traction. They collectively cashed in on half of the $1 million handed out at the Clean Energy Trust's annual event, which is now in its fifth year.
Also representing Northwestern was ReCaF, a team formed in the 2015 NUvention: Energy class, who pitched their alternative fuels company in the student portion of the competition. These companies continued what has now become a tradition of a strong Northwestern presence at the Midwest's premier clean tech business plan competition.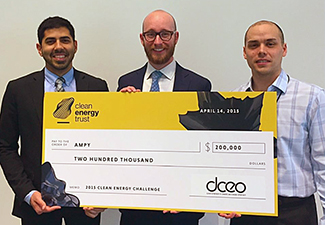 The awards given to AMPY and NuMat came from the Illinois Clean Energy Fund, a $4.6 million program started by the Clean Energy Trust and the Illinois State Department of Commerce and Economic Opportunity. The fund is comprised of $2.3 million in federal funds approved for investing in clean energy businesses, and a matching $2.3 million of private investment. Another Northwestern clean tech spinout, SiNode Systems, was awarded $300,000 from the Illinois Clean Energy Fund in 2014.
AMPY, which won $200,000, has created a device to capture and store kinetic energy, which can be used to power smartphones and other mobile devices. NuMat, awarded $300,000, is a materials company focused on gas storage. Both companies took home prizes in previous years of the Clean Energy Challenge and have received significant funding from other sources, including business plan competitions, the US Department of Energy, and in AMPY's case, a highly successful Kickstarter campaign. 
The success of Northwestern clean tech startups highlights a strong entrepreneurial ecosystem at the University, which includes NUvention: Energy, an interdisciplinary course in clean tech innovation. The course is offered by the Farley Center for Entrepreneurship and Innovation in partnership with the Institute for Sustainability and Energy at Northwestern. Ampy, SiNode Systems, and ReCaF are all alumni of NUvention: Energy.
"Both the Farley Center and ISEN have been instrumental to our success," said Tejas Shastry, co-founder and CEO of AMPY. "Having access to those communities and resources is really helpful. We wouldn't be here without them." 
NuMat co-founder and CEO Benjamin Hernandez echoed that sentiment. "Northwestern is like our left arm," he said. "We've got 10 people on our team now, and nine of them are alums."
ReCaF, which uses carbon dioxide from cement factory exhaust, water, and sunlight to produce methanol, competed with five other student teams from around the Midwest. The team is leveraging technology and expertise from the Solar Fuels Institute (SOFI), an ISEN center, as well as mentorship and resources from NUvention: Energy.
"With a focus on interdisciplinary team dynamics, customer relationships, and business plan development, NUvention is an ideal training ground for these passionate and highly motivated students," said Mark Werwath, associate director of the Farley Center and lead instructor for the course. "We are thrilled to see the continued success of these teams, and expect there will be much to more to come."